Plaza Mayor, Madrid
The first plans for laying out the Plaza Mayor, which played an important part in the life of the town as early as the 16th C., date from the time of Philip II, who entrusted the task to his favorite architect Juan de Herrera, builder of the Escorial. Work started in 1590, and the square was completed by Juan Gómez de Mora in 1617-19, in the reign of Philip III.The Plaza Mayor was not only the center of commerce and municipal life but the scene of such ceremonial events as the proclamation of a new king, the canonization of saints, an execution and the burning of heretics.
Important Information:
Transit:
Metro: Puerta del Sol; Bus: 3, 31, 50.
The square was also crowded with spectators for more festive occasions such as bullfights, dramatic performances and knightly tournaments.In 1790, after fire had caused serious damage to the square, Juan de Villanueva, architect of the Prado, was given the task of reconstruction. The houses lining the square were all raised to the height of the Casa Panadería and the roofs covered with slates. The entrances of the eight streets which then led on to the square were built over, giving the square its present closed-in impression.The cafe-terraces and arcade restaurants are popular meeting- places for tourists, people from the provinces, as well as the "madrileños" themselves.The square is today a pedestrian precinct and on each of its sides there are two exits linking it with main streets such as the Calle de Toledo, the Calle Mayor and the Calle Postas.On the same side as the Casa de la Carnicería lie the steep steps of the Arco de Cuchilleros (the Cutlers' Arch), which lead down to the lower level of the Cava de San Miguel.
Related Attractions
Casa Panadería
On the north side of the Plaza Mayor stands the Casa Panadería (1590) with its two towers. Formerly the city's official bread distribution point, it boasts a large coat of arms over its balcony. Opposite it stands the Casa de la Carnicería, the former butchers shop, also flanked by two towers. The equestrian statue of Philip III, which was designed by Giambologna and cast in 1613 by Pietro Tacca in Florence, originally stood in the Casa del Campo but was transferred to the square in 1847.
Christmas Fair
These days the annual Christmas fair is held in the Plaza Mayor.
Stamp Market
Every Sunday morning the stamp market takes place in the Plaza Mayor.
Map of Madrid Attractions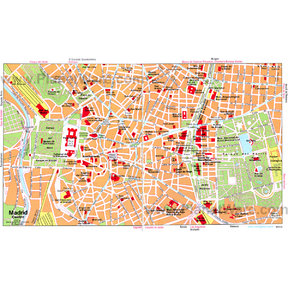 Madrid Map