Plaza de la Villa, Madrid
A little way west of the Plaza Mayor along the Calle Mayor is the Plaza de la Villa, one of the finest squares in the old part of Madrid, with the Town Hall, the Casa de Cisneros, the Torre de los Lujanes and the Municipal Newspaper Archives.
Important Information:
Transit:
Metro: Puerta del Sol, Opera; Bus: 3, M4.
Related Attractions
Town Hall
The Casa del Ayuntamiento was begun in 1586 to the design of Juan Gómez de Mora, who had been involved in the building of the Escorial, and completed more than a century later (1696), in accordance with the original plans, by José de Olmo and Teodoro Ardemans, architect of the Palace of La Granja. In 1789 Juan de Villanueva added a balcony with a view of the Calle Mayor from which the Queen watched the Corpus Christi procession.Notable features of the interior are a fine collection of tapestries; the handsome State apartments, including the Salón de Goya, the Council Chamber and the Patio de Cristales; a 16th C. monstrance; and Goya's "Allegory of Madrid".
Allegory of Madrid
Goya's "Allegory of Madrid" can be viewed at the Town Hall.
Torre de los Lujanes
Opposite the Town Hall is the Torre de los Lujanes, with the Municipal Newspaper Archives adjoining it. These are the oldest buildings in the square.The house and tower of the Lujanes are among the few civil buildings surviving from 15th-16th C. Madrid, and the entrance doorway with the owner's coat of arms is one of the few Gothic remnants in the city.After being taken prisoner at the Battle of Pavia in 1525 King Francis I of France was confined in the Torre de los Lujanes; but Charles V allowed this "prisoner" considerable liberty, and Francis was able to move freely about Madrid and attend the festivals and banquets which the nobility of Castile gave in his honor.
Casa de Cisneros
The Casa de Cisneros, now connected with the Town Hall by a covered bridge, was built in 1537 by Benito Jiménez de Cisneros, nephew of the great Cardinal Cisneros who founded the University of Alcalá. Its main front, one of the few examples of Plateresque (Late Gothic) decoration in Madrid, faces the Calle de Sacramento. In 1590 Antonio Pérez fled from here to escape Philip II. The house was acquired by the city in 1909 and is now the official residence of the Mayor as well as housing a beautiful collection of tapestries.
Map of Madrid Attractions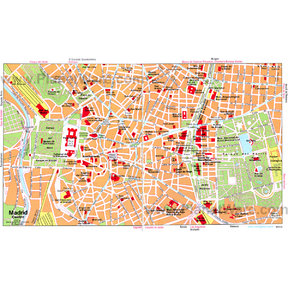 Madrid Map