San Frediano, Lucca
The Church of San Frediano, dedicated to the sixth century Bishop of Lucca of that name, was built between 1112 and 1147 on the site of the earlier eighth century church (some remains of which were brought to light in 1950). Originally the church had the usual orientation, with the chancel at the east end. In the 13th century, however, it was heightened and the facade was given another story; the baptistry and the Cappella della Santa Croce, to the right and left of the present entrance, were incorporated in the church; the apse, containing the altar, was built on to the west end so that the entrance front should not face the town walls which had by then been erected.
Important Information:
Opening hours:
8:30am-12pm, 3pm-6pm; Sun: 10:30am-12pm, 3pm-5pm
The lower part of the facade is plain, vertically articulated by pilasters and columns.The upper part is dominated by a huge mosaic depicting Christ in a mandorla (pointed aureole) flanked by two Angels, with the Twelve Apostles below. In the Italo-Byzantine style (much restored in the 19th century), it is attributed to Berlinghiero Berlinghieri. The nave is separated by columns (with Romanesque capitals or capitals imitating ancient models) from the aisles, off which open Renaissance chapels. It is much higher than the aisles - twice as high as it is wide. In the first chapel on the right is a very beautiful font of the mid 12th century which was broken up in the 18th century and put together again only in 1952. Round the outside of the lower basin are reliefs depicting scenes from the life of Moses (by one Master Robertus) and Christ as the Good Shepherd with Apostles or Prophets. The upper basin is in the form of a tempietto (little temple) with allegorical representations of the Months. The fourth chapel on the left, the Cappella Trenta (1413), has a richly decorated Gothic marble polyptych with bas-reliefs by Iácopo della Quercia depicting the Madonna and Child with Saints, accompanied by the legends of the Saints (1422). Here, too, are the much-worn tomb-slabs of a merchant named Lorenzo Trenta and his wife.
Map of Lucca Attractions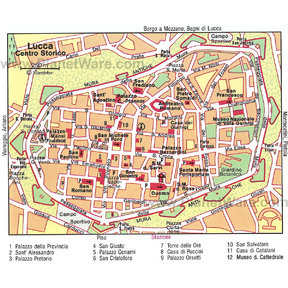 Lucca Map
More Lucca Attractions
Popular Destinations Nearby