University of California at Los Angeles (UCLA)
With almost 35,000 students, this high college (405 Hilgard Avenue, Westwood) is the largest constituent of the University of California. Having originated from a so-called Normal School founded in 1882, it began to expand when it acquired its present campus site in the Westwood area of the city. In the year 1929 the college institute, laid out in the form of a rectangle, was re-opened.
University of California at Los Angeles (UCLA) Map
Important Information:
Address:
405 Hilgard Avenue, Los Angeles, CA 90095-1361, United States
Useful tips:
Tips and information Cars are allowed only on the main roads of the campus, so you must find the places of interest on foot. Guided walks are available on Mondays to Fridays 10.30 am-1.30 pm, starting from the Visitor Center, Ueberroth Building, corner of Le Conte & Broxton Avenue.
To these four buildings, based on an Italian model, have been added 80 more in the last six decades. The 400 acre/ 160 hectare campus is today one of the most beautiful in California.There are a number of things to see and do here. Among the highlights for visitors are the Fowler Museum, the Franklin Murphy Sculpture Garden, and the Mildred E. Mathias Botanical Garden. The Fowler Museum displays art works from around the world focusing on cultural history. The museum features a permanent collection as well as changing exhibitions and is free of charge. The sculpture garden and the botanical garden are wonderful areas to wander through with important pieces of art and plant specimens from around the world.
Related Attractions
UCLA - Fowler Museum at UCLA
The adjoining Haines Hall houses the Museum of Cultural History, with temporary exhibitions. In Schoenberg Hall (named after the composer Arnold Schoenberg who worked at the UCLA for a number of years) unusual concerts are often given. There is a large gallery in the Dickson Art Center.
UCLA - Mildred E. Mathias Botanical Garden
UCLA's numerous gardens are noted for their exotic plants. A botanical garden situated in a canyon, 3.75 acres/1.5 hectares in area, is laid out like an unusual woodland landscape. Royse Hall, one of the four original buildings, has a large auditorium in which numerous concerts take place.
Franklin Murphy Sculpture Garden
There are more than 70 sculptures at the Franklin Murphy Sculpture Garden located in front of the Dickson Art Center on the UCLA campus.
Map of Los Angeles Attractions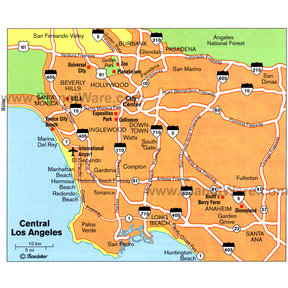 Los Angeles Map
More Los Angeles Attractions