San Pedro
San Pedro, 25mi/40km from the city center, is indeed a part of Los Angeles, but is often regarded as an independent district. A start was made on developing this natural harbor in the 1880s. It was completed towards the end of the century, but not until 1909 did it form a part of Los Angeles with which it is linked by a narrow corridor.
Important Information:
Address:
390 West Seventh Street, San Pedro, CA 90731-3324, United States
Useful tips:
Trip to Santa Catalina Island From San Pedro you can go by boat or helicopter to Santa Catalina Island . The helicopter flies every day given sufficient demand (departing from Pier 95). Boat leave from piers 95 and 96. Bus no. 446 (Fermin/San Pedro), change to bus no. 147. By car: Harbor Freeway in southerly direction, Harbor Boulevard exit.
Related Attractions
Fort MacArthur Military Museum
The Fort MacArthur Museum is a U.S. Army post that was built in 1914 to guard the Los Angeles harbor and served until 1974. The Museum was established in 1985, and it is housed in the corridors and galleries of historic Battery Osgood-Farley. The Fort MacArthur Reservations houses a collection of historical structures which were part of the U.S. Army's role in the defense of the American continental coastline. These structures highlight the development of American coastal defenses, from the all big gun era of the turn of the century to the missile era of today.
Ports O'Call Marketplace
The Villages at Ports O'Call complex is laid out like a port of New England on the east coast of the United States. Here you will find no fewer than 75 shops, some with an international flavor, and 15 restaurants. From here, too, you can watch the activity in one of the world's biggest harbors, Worldport LA (Los Angeles).
SS Lane Victory
Victory at Sea, The 455' SS Lane Victory, a fully operational WWII museum ship, is dedicated to merchant mariners and US Naval Armed Guard lost at sea in time of war. There are two great onboard museums, filled with large ship models and nautical memorabilia.This historic ship is supported by summer day cruises off Catalina.
Los Angeles Maritime Museum
The Los Angeles Maritime Museum (pier 84, bottom of 6th Street), houses items and photographs relating to the history of the port.The Museum is housed in the 1941 Municipal Ferry Terminal.
Cabrillo Marine Aquarium
In San Pedro can be found the Cabrillo Marine Museum, housed in the enclosed 70-year-old public-baths and in several small houses in which the aquaria are situated.
Point Fermin Park
Point Fermin Park in San Pedro is a 37 acre reserve on the Pacific coast. There is a lighthouse with views of Catalina Island.
Map of Los Angeles Attractions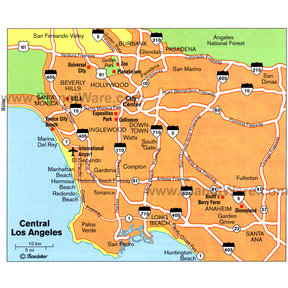 Los Angeles Map
More Los Angeles Attractions