Other Sights
Related Attractions
Los Angeles - East Los Angeles
East L.A. is home to many different ethnic and cultural groups.
Judson Studios
The Judson Studios have been home five generations of the Judson family who create stained glass. The gallery of sacred and traditional art showcases work by contemporary stained glass artists is open daily.
Latino Walk of Fame
The Latino Walk of Fame was inaugurated in summer 1997 with a site honoring Cesar Chavez, founder of the United Farm Workers Union. Since then, more than 300 plaques have been laid.
Los Angeles Artcore Annex
The Artcore Annex is one of two satellite spaces operated by L.A. Artcore, a non-profit exhibiting organization emphasizing emerging, unrecognized artists. Exhibitions and competitions are held regularly.
Koreatown
One of the newer ethnic quarters, which has expanded even more in the last few years, is Koreatown. Some 100,000 Koreans now live in a district west of Downtown Los Angeles in about 200 streets. So far, however, the Koreans have preferred to keep to themselves and have made little attempt to attract tourists in the way that Chinatown and Little Tokyo have done. Their houses border on Vermont Avenue, Pico Boulevard, 8th Street and Western Avenue. The Angelenos say that the district is scarcely recognizable anymore; the old houses have all been freshly painted and some converted, and everywhere there are Korean shops with signs only in Korean. There are acupuncture clinics, shops selling medical herbs, roast algae, kimchee (fermented white cabbage) and beautiful imported Korean articles such as porcelain musical-boxes. A Buddhist temple, Thal Mah Sah, stands in one of the main streets (3505 W. Olympic Boulevard). Not far away is the Sin Sae Kae department store (3150 W. Olympic). Korean restaurants are also to be found in abundance; however, the sharply spiced food is an acquired taste.
Metrolink
With 372 km of track and 39 stations the Metrolink is a commuter rail service which was inaugurated in 1992 on three routes linking LA Union station with Moorpark, Santa Clarita and San Bernardino. A fourth line to Riverside opened in June 1993, and services on the Orange County line started in March 1994.The Regional Rail Authority was created in 1991 to oversee development of a commuter rail network extending into five counties - Los Angeles, Orange, Riverside, San Bernardino and Ventura.Following the January 1994 earthquake, services resumed within 24 hours.
Los Angeles International Airport (LAX)
Los Angeles International Airport (LAX) handles more than 59 million passengers each year, making it the fourth-busiest airport in the world. Originally known as Mines Field, LAX has been used for general aviation since 1928, and for commercial aviation since 1946. Inside the terminal, the Encounter Restaurant has an observation deck 70 feet above the ground.
Metro
The Metro in Los Angeles operates trains on three lines from 5 a.m. till 11 p.m. The Blue Line runs south from downtown to Long Beach. The Green Line runs east and west from Redondo Beach to Norwalk. The Red Line runs from downtown west to Wilshire Center.
Other Sights Pictures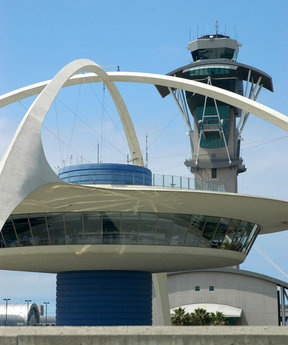 Map of Los Angeles Attractions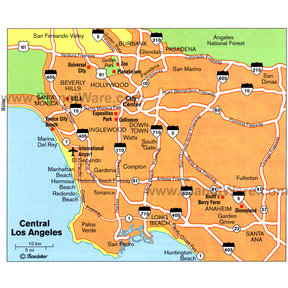 Los Angeles Map
More Los Angeles Attractions