Museum of Contemporary Art (MOCA), Los Angeles
As the name suggests, the Museum of Contemporary Art in Los Angeles is devoted exclusively to modern art, and is the only one of this kind in Los Angeles. All the works here are from 1940 onwards and cover all media. The museum came to life in 1979 and has expanded over the years. Today the museum includes three separate facilities; the MOCA Grand Avenue, the Geffen Contemporary at MOCA, and the MOCA Pacific Design Center.
Museum of Contemporary Art (MOCA) Map
Important Information:
Address:
250 South Grand Avenue, Los Angeles, CA 90012-3021, United States
Opening hours:
11am-5pm; Sun: 11am-6pm; Thu: 11am-8pm; Closed: Tue, Wed
Always closed on:
New Year's Day (Jan 1), Thanksgiving - USA (4th Thursday, Nov), Christmas - Christian (Dec 25)
Entrance fee in USD:
Adult $8.00, Students $5.00, Senior over 65 $5.00, Child 12 & under FREE
Useful tips:
Tours take place Tuesday through Saturday at noon, 1 and 2 pm. The tours begin at the information centers and last 20 to 30 minutes. Free to all every Thursday 5-8 pm.
Disability Access:
Full facilities for persons with disabilities.
Guides:
Guided tour included with admission.
Facilities:
Wheelchair loan or rental
Each building is unique and offers its own permanent and / or changing exhibitions.The main building is the MOCA Grand Avenue on Bunker Hill, designed by Arata Isozake. It was opened to much fanfare in 1986 and is made of red sandstone, giving it a much different appearance than the other locations. The Geffen Contemporary is located in an old police car warehouse that has been converted into museum space. In West Hollywood is the Pacific Design Center, dedicated primarily to architecture and design.Until this museum was founded Los Angeles was without a collective home for art which is exclusively contemporary, not just modern. The main building was erected on the last piece of vacant land on the California Plaza, a giant complex of offices and apartment buildings, shopping centers and restaurants, between the City Hall and the actual city center. Pontus Hulten, former manager of the Center Georges Pompidou in Paris, was chosen as the first director of the museum, but he withdrew from the post before the two buildings were inaugurated, and his deputy Richard Koshalek was appointed in his place.The museum was set up so that there would be a home in Los Angeles for contemporary art, and the many native collectors could be catered for. Two important collections have been donated to the museum: 80 works that were in the possession of the Italian Count Guiseppe Panza di Biumo (mainly of abstract impressionism and pop-art), as well as 64 from the estate of the collector Barry Lowen (minimalists from the sixties and seventies, neo-expressionists, post-minimalists from the eighties).Together with gifts of individual works, the museum has a stock of 425 paintings, sculptures, prints, sketches, photos, installations and other works, and it is still in the building-up phase.Lighting conditionsThe natural lighting conditions of the Isozakis Museum, built of red sandstone, are extremely advantageous, thanks to its pyramidal superstructures, cubes and cylinders which give the low building the appearance of being at the same time higher and yet firmly anchored to the ground. The division of the old storeroom into small and large galleries, with ramps and staircases, provides many possible arrangements for exhibitions.
Related Attractions
Geffen Contemporary at MOCA
The Geffen Contemporary opened in 1983 as a temporary exhibition space while the main museum was being constructed. Local architect, Frank Gehry, converted the former warehouse.Both MOCA buildings are home to one of the country's finest permanent collections of art since 1940, ranging from abstract expressionist and pop art to recent works by young artists.Each year the museum presents more than 20 exhibitions, including historical and thematic shows, one-person retrospectives, newly commissioned projects and works by emerging and established artists. These feature not only painting, sculpture and drawing, but also video, photography, film, music, dance, performance, design, architecture and new forms that combine various disciplines.
Map of Los Angeles Attractions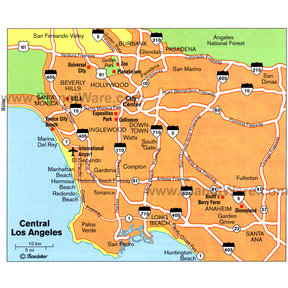 Los Angeles Map
More Los Angeles Attractions