Mayan Theater, Los Angeles
Location and originThe Mayan Theater (1040 Hill Street, near 11th Street) opened in 1927 with George Gershwin's musical "Oh, Kay!" reflects the pre-Columbian Maya style. It was commissioned by the oil millionaire Ed Doheny.The façade is covered with well-preserved stone figures - including the mighty Maya god Huitzilopochtli - and geometric mosaics, copies of those found in the Yucatan cities of Uxmal and Chichen Itza.
The glazed tiles in the foyer were made specially for the Mayan Theater by a Mexican artist, and are reproductions of tiles found in a sun-temple in Guatemala."Dark-room"As the Mayan Theater is situated in a run-down area (1040 Hill Street, near 11th Street) and for years has been used only to show pornographic films, the auditorium is nearly always kept dark, so you can see very little of what is described as a very beautiful room. It is said that the lights are not even switched on during the intervals between performances.Belasco TheaterAs a second theater building, the Belasco Theater, stands in the immediate vicinity of the Mayan Theater, one gets the impression that the otherwise unattractive Hill Street was once part of a theater district. However, the Belasco Theater, named after the actor, producer, theater director and playwright David Belasco, who was born in San Francisco, has been a church for years.Mural paintingOn the side-wall of the house opposite the Mayan Theater (1031 S. Hill Street; best seen from the car-park) is a painting, over 65ft/20m long, by the well-known mural artist Kent Twitchell. It depicts the painter Ed Ruscha.
Map of Los Angeles Attractions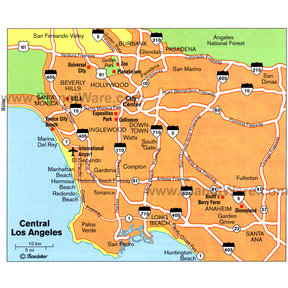 Los Angeles Map
More Los Angeles Attractions