Grauman's Chinese Theatre / Mann Theater, Hollywood
Very often hundreds of people can almost always be seen in front of Mann's Chinese Theater (6925 Hollywood Boulevard) - still the great sensation of Hollywood. This cinema was built in 1927 and opened with Cecil B. De Mille's film "King of Kings". Like the Egyptian Theater on Hollywood Boulevard and the Million Dollar on Los Angeles' Broadway, the Chinese Theater is also a creation of Sid Grauman, who had a predilection for exotic cinema palaces.
Grauman's Chinese Theatre (Mann Theater) Map
Important Information:
Address:
6925 Hollywood Boulevard, Los Angeles, CA 90028-6103, United States
Disability Access:
Full facilities for persons with disabilities.
Now it is run by Ted Mann, who named it after himself. Both the inside and the outside incorporate numerous Chinese features. The entrance is guarded by two giant Chinese heavenly dogs, to keep away evil spirits. The foyer is fitted with thick oriental carpets; large vases and urns, the statue of a Chinese philosopher and the three wax figures in the corner, clothed in exotic Chinese robes, emphasize the Chinese character of this room."Autograph collection"In the forecourt you can see the largest "autograph collection" in the world: foot and hand-prints of more than 150 film personalities, together with their signatures. It is said that it was the silent-film actress Constance Talmadge who first - by mistake - walked on the wet cement and inspired Grauman to this original undertaking. There is still enough space left for the foot and hand-prints of actors, directors and producers to last for another thirty years.Other cinemasTwo less attractive cinemas, Chinese 2 and 3, are built nearby. In the years to come the whole cinema complex will probably be surrounded by a giant new building, the Hollywood Promenade, with flats, offices and shops.
Grauman's Chinese Theatre (Mann Theater) Pictures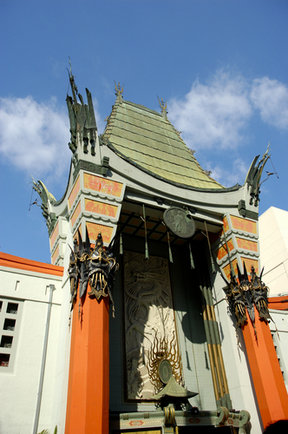 Map of Los Angeles Attractions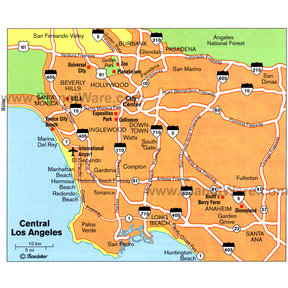 Los Angeles Map
More Los Angeles Attractions