George C Page Museum of La Brea Discoveries, Los Angeles
This steel-roofed museum, opened in 1977 shows reconstructed fossils of prehistoric animals found in the giant tar-craters of Rancho La Brea, such as mastodons and mammoths, for which tar proved to be an excellent preserving medium. Throughout the years, hundreds of thousands of bone sections from over 170 different mammals and birds have been dug up, from which a number of complete skeletons have been reconstructed.
George C Page Museum of La Brea Discoveries Map
Important Information:
Address:
5801 Wilshire Boulevard, Los Angeles, CA 90036-4596, United States
Opening hours:
9:30am-5pm
Always closed on:
New Year's Day (Jan 1), American Independance Day (Jul 4), Thanksgiving - USA (4th Thursday, Nov), Christmas - Christian (Dec 25)
Entrance fee in USD:
Adult $7.00, Child 17 & under $4.50, Senior over 62 $4.50, Child 12 & under $2.00, Child 5 & under FREE
Useful tips:
Admission is free on the first Tuesday of each month. A joint ticket package for two satellites of the Natural History Museum, the Page and the Peterson Automotive Museum allows visitors to see both sites on one day for a reduced price.
Some of the great tar-craters can be visited. Films and slide-shows explain the Ice Age fauna to the visitor.The Rancho La Brea Tar Pits in Los Angeles have revealed hundreds of thousands of bones, providing insight into the last ice age. These Tar Pits would entrap passing animals which would get stuck in the substance. The tar then preserved the fossils throughout the ages.The George C Page Museum of La Brea Discoveries is an incredible museum that not only displays fossils but also shows the process of fossil recovery. Visitors can see bones being worked on and what takes place before bones and skeletons are ever displayed. On display at the museum are fully reconstructed fossils of a variety of mammals including mammoths, saber-toothed cats, dire wolves, and others all dating from between 40,000 and 10,000 years ago. There is also an outdoor area, in Hancock Park, with replicas of extinct animals.
Related Attractions
Rancho La Brea Tar Pits
In Hancock Park in Los Angeles is the Rancho La Brea Tar Pit. It was formed 40,000 years ago when oil seeped through the rock. The site is notable because of the fossils removed from here. They come from the Pleistocene age and include Mastodons and saber tooth tiger remains.
Map of Los Angeles Attractions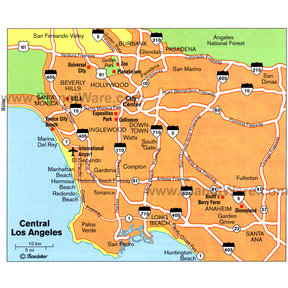 Los Angeles Map
More Los Angeles Attractions