El Pueblo de Los Angeles Historical Monument, Los Angeles
El Pueblo de Los Angeles Historical Monument encompasses the area where Los Angeles was first founded in 1781. The history of this area is extensive, having been claimed at one time or another by Spain, Mexico, and the United States. The first settlers in what is today Los Angeles were of Native American, African and European decent. . It was not until 1953 that an effort was made to restore the 27 historic buildings.
Address:
125 Paseo de la Plaza, Suite 400, Los Angeles, CA 90012, United States
Opening hours:
10am-3pm; Fri: 10am-4:30pm; Closed: Sun
Guides:
Guided tour available as optional extra.
Related Attractions
Union Station
Union Station in Los Angeles, built in the Spanish mission-house style between 1934-39 (800 North Alameda Street), proved to be one of the last large city railway stations of its kind in the United States. It was a communal project by three private railway companies, Southern Pacific, Santa Fe and Union Pacific. Particularly worth noting are the waiting-room, over 50ft/15m high and with a ceiling of wooden beams, the marble floors and the numerous arcades. The Union Passenger Terminal became less important with the decline in long-distance travel.Today the station is where you will find Amtrak and Metrolink. Over the years the terminal has adapted and changed its function to accommodate modern day needs, including the demands of regular daily commuters.
Olvera Street
After the restoration of Old Los Angeles, Olvera Street opened in 1930 as a Mexican market, but in latter years the range of goods on sale has lost much of its charm, so that recently plans have been lodged for a further re-modeling. In addition to market-stalls and shops, there are many restaurants in the houses. The road bears the name of the first judge in Los Angeles County, Agustin Olvera.Olvera Street is known as the birthplace of the City of Angels or El Pueblo Historic Monument. It contains 27 historic buildings and a traditional Mexican style plaza area.
Masonic Hall (closed)
The Masonic Hall (416 N. Main Street) is one of the oldest temples of Freemasonry in Los Angeles (1858) and is still the meeting room of lodge no. 42. Nearby is a small museum. The single-story building with a wrought-iron balcony above is reminiscent of the Italian Renaissance.Attraction is closed.
Avila Adobe
Avila Adobe, the house of the mayor (alcalde) at the time, was built in the Adobe style in 1818. After being in the possession of his family for 40 years, it had a checkered history. After an earthquake in 1971 it was fully restored and fitted out to reflect the life style of a prosperous Spanish family of around 1840.
Church of Our Lady Queen of Angels
The Church of Our Lady Queen of Angels (535 N. Main Street) on the Plaza was built between 1818 and 1822, and today belongs to the archbishopric of Los Angeles. Originally constructed in the Adobe style, it has been restored and extended several times.
Old Plaza Firehouse
The Old Plaza Firehouse (by the Plaza) is a brick building dating from 1884, and at the time was an inn, boarding-house and shop. Today it houses a museum, displaying fire-fighting equipment from the 19th century as well as photos of other old fire stations.
Pelanconi House
Pelanconi House (17 W. Olvera Street) is one of the city's first brick-built houses, and named after its second owner, the Italian Antonio Pelanconi. This is also now a private house.
Pico House
Pico House (430 Main Street) was built in 1869 by the last Mexican governor of California, Pio Pico, and is reminiscent in style of an Italian palazzo. For many years it was the prime hotel in Los Angeles. It is now a private house.
Sepulveda House
Sepulveda House is a Victorian building constructed in 1887 and used as a boarding house by Eloisa Martinez de Sepulveda. Located on North Main Street, Sepulveda House features a visitor center and historical exhibits.
Map of Los Angeles Attractions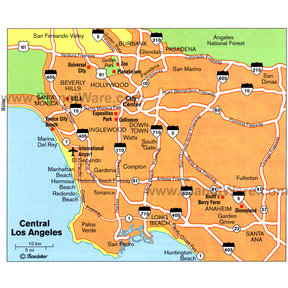 Los Angeles Map
More Los Angeles Attractions