Tours, London
A wide variety of tours is available to visitors to London.
Related Attractions
Bus Tours
There are two possibilities for a round tour of London by bus: either to go as an individual by regular buses or to join one of the organized bus tours which are advertised by various undertakings.A first impression of London is best obtained from the upper deck of a red double-decker London Transport Bus. Very suitable for such journeys is a "travelcard" with which you can use all normal red London buses and as often as you like.
Original London Transport Tour
These round tours are an inexpensive way of getting a first general view of London before exploring the city as an individual. The tours take place daily (except on Christmas Day) from March to October from 9 a.m. - 8 p.m. and from November to February from 10 a.m. - 5 p.m. It is not necessary to make a reservation. The trips last about one and a half hours and are accompanied by an official guide from the London Tourist Board. Tickets are bought on the bus or at the information offices of London Transport, the information offices of the London Tourist Board or the British Travel Centre.Information: tel. 828 7395Departure points:Haymarket, SW1: Underground station: Piccadilly CircusMarble Arch (Speakers' Corner), W1: Underground station: Marble ArchVictoria Underground Station (Victoria Gardens), SW1: Underground station: VictoriaBaker Street Underground Station, W1: Underground station: Baker StreetRecorded commentaries are available in eight languages besides English. Most buses are open-top double deckers. Some tours include admission to various attractions.
Thames Boat Excursions
Motorboats operate regularly all year along the Thames. In summer the services run every 20 to 30 minutes from several piers, where tickets can be bought. There are also round trips and evening excursions from Charing Cross Pier, Westminster, Tower and Greenwich Pier. There are also Luncheon cruises available from Charing Cross Pier.Details of timetables and destinations can be obtained from the Riverboat Information Service: tel 071 231 7122.

Red River Rover
Cruises depart frequently from Westminster Millennium Pier, Waterloo Millennium Pier, Tower Millennium Pier and Greenwich Pier.
Bicycle Rental
Cycling is a good way of getting from one place to another in London, as there are few gradients.London Cycling Campaign, 3 Stamford Street, SE1; tel. 928 7220 Underground station: WaterlooOn Your Bike, 52 Tooley Street, SE1; tel. 378 6669 Underground station: London BridgeDial-A-Bike, 18 Gillingham Street, SW1; tel. 828 4040 Underground station: Victoria
Tours Pictures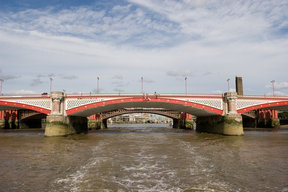 Map of London Attractions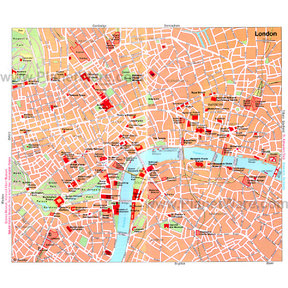 London Map