Strand, London
West of Temple Bar begins the Strand, which connects the City and Westminster along the Thames.
Important Information:
Transit:
Underground: Temple.
Related Attractions
St Clement Danes Church
Designed by Wren and built in 1681, St Clement Danes Church was gutted by bombing during the last war, only the tower by James Gibb (1719) remaining unscathed. It was restored in the original style in 1958. There is a memorial to Samuel Johnson to the east of the church. The church may derive its name from the fact that there was a Danish settlement on the site before the Norman Conquest. St Clement Danes is the official church of the Royal Air Force. It contains the Book of Remembrance bearing the names of more than 125,000 members of the RAF who lost their lives in the Second World War. The present volume - No 10 - contains the names of any current members who die whilst serving. Let into the floor of the church are more than 800 crests of RAF units. The altar and font in the crypt were donated by the Air Forces of Holland and Norway whose pilots fought with the RAF in the Second World War. Outside the church stand the memorials to Air Chief Marshal Lord Dowding and Marshal of the Royal Air Force Sir Arthur Harris. The bells of St Clement Danes, long familiar to children in an old nursery rhyme ("Oranges and lemons, say the bells of St Clement's"), ring daily at 9 am, noon, 3 pm and noon. Every year in March there is a special children's service, when each child is given an orange and a lemon on leaving the church.
Queen's Chapel of the Savoy
The Queen's Chapel of the Savoy stands in a side street off the Strand, near Waterloo Bridge. It is the Chapel of the Duchy of Lancaster and therefore a private chapel of the sovereign since, as Duke of Lancaster, the monarch is a successor, through his son King Henry IV, of John of Gaunt, second Duke of Lancaster (1340-99). John of Gaunt's palace, which once stood here, was razed to the ground during the Peasant's Revolt of 1381. Henry VII caused a great hospital for poor, needy people to be built on the site in 1512. The late Perpendicular Chapel was part of that Foundation and is all that now remains of it. The interior was gutted by fire in 1864 but restored by Queen Victoria in the original style. It is the Chapel of the Royal Victorian Order, membership of which is in the personal gift of the sovereign. At the west end of the chapel are the very fine royal pews.
Law Courts
The Law Courts on the Strand is a fine example of Gothic revival architecture. The building was designed by G.E. Street and constructed from 1871-1882.A visit to the law courts gives an interesting insight into contemporary English society.
Map of London Attractions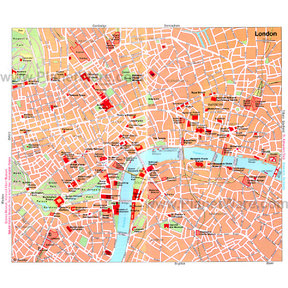 London Map