Soho, London
The district of Soho (from an old hunting cry), bounded on the west by Regent Street, on the north by Oxford Street, on the east by Charing Cross Road and on the south by Shaftesbury Avenue, is a part of London which means different things to different people. For the businessman Soho is a good address. Its convenient central situation has led a wide range of businesses to establish themselves here - film companies, publishers, sound recording studios, record companies, exporters and agencies of all kinds.
Important Information:
Transit:
Underground: Piccadilly Circus, Oxford Circus, Tottenham Court Road.
During business hours the life of Soho is dominated by the comings and goings of those employed in these various activities. Soho is also a Mecca for the gourmet, with its specialized food and delicatessen shops and its restaurants offering a wide range of international cuisines. Since the latter part of the 17th century, when thousands of Huguenot refugees from France settled here after the revocation of the Edict of Nantes in 1685, to be followed later by Italians, Swiss, Chinese, Indians and newcomers of many other nationalities, Soho has been an area much given to foreign cuisines - at first in the family but later also on a commercial basis, often in small restaurants consisting of no more than a single room. The original clientele of the Soho restaurants was made up of thrifty foreigners and poor students: it has now become fashionable to eat in Soho, and a meal in this quarter can sometimes be expensive. There are, however, still numbers of reasonably priced restaurants in Soho; and since they are open for lunch as well as dinner a meal in Soho can be combined with a stroll through the streets of this very characteristic quarter of London.For theater-goers, Soho boasts a concentration of the most famous West End theaters.For many visitors, too, Soho is a world of dubious entertainments, late night shows and sex shops, but in recent years the number of these establishments has declined. In this respect as in others Soho caters for every taste.Soho should really be seen both by day and by night. Daytime visits can include Carnaby Street of 1960s fame, the church of St Anne's Soho in Wardour Street where Theodore, King of Corsica, is buried, along Dean Street, where Karl Marx lived at No. 28 from 1850 to 1856, to Soho Square with its statue of Charles II. After an evening performance at the theater, a stroll down Brewer Street and Old Compton Street can provide a selection of bars, cafes and restaurants. Chinatown, with its shops and restaurants stretching between Gerrard Street and Leicester Square, is also very inviting.
Related Attractions
Leicester Square
Leicester Square, long famous as a center of entertainment, is built around a small garden laid out by Albert Grant in 1874. In the center of the garden is a statue of Shakespeare, and at the corners are busts of four famous local residents - Sir Isaac Newton, Sir Joshua Reynolds, William Hogarth and Dr John Hunter. There is also a statue of Charlie Chaplin. The square is named after Leicester House, built here by the second Earl of Leicester in 1631. The square is a pedestrian precinct. Around the square and in the immediately surrounding area are some of London's largest and best known cinemas. On its south side is the Half Price Ticket Booth and on the opposite side is the Swiss Centre with a mechanical clock which performs on the hour.Off Leicester Square to the north is London's Chinatown.
Half Price Ticket Booth (Leicester Square)
The Half Price Ticket Booth at Leicester Square is open Mon.-Sat from noon - 2 p.m. for matinees, 2:30-6:30 p.m. for evening performances on the same day. Tickets are sold at half the regular box office price plus £1 service charge for tickets with a face value of £5 or less, or £1.50 for all other tickets. Tickets are limited to four per person, cash only.
Carnaby Street
The legendary Carnaby Street in Soho was the mecca in the 1960's for young "beat" and "pop" fans of every country in the world. At that time Hippies, Flower Power and idiosyncratic movements of all kinds dominated the scene. Today many fashion boutiques, souvenir stalls and shops selling jeans still recall the flavor of that period. Now the area is being revitalized and is a fun place to visit.
BBC Experience (closed)
Opened in October of 1997 the BBC Experience explains how the national network operates, with models, archived material and interactive exhibits. Closed in July 2001.
Wolfgang Amadeus Mozart House
The family of Mozart arrived at this house when the musical prodigy was only eight. They stayed for a period of six months and Mozart gave a recital of his works in the house.
Chinese New Year in Soho
Chinese New Year celebrations take place in Soho at the end of January / early February.
Soho Square
This attractive square was laid out by King Charles II and later became home to the Duke of Monmouth.
Berwick Street Market
Berwick Street Market offers fruit, groceries and clothing.
Lisle Street Chinatown
Numerous stalls, shops and restaurants provide a sampling of the Orient.
Old Compton Street
This is Chinatown's main shopping street.
Ronnie Scott's Jazz Club
Ronnie Scott's Jazz Club is top-fare for London, with many world-class musicians.
Soho Pictures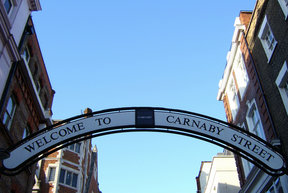 Map of London Attractions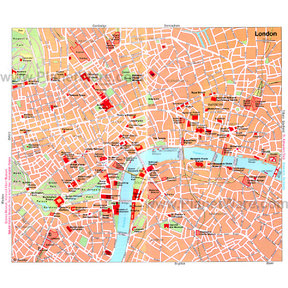 London Map