National Portrait Gallery, London
The criterion for inclusion in the National Portrait Gallery is not so much the quality of the picture as a work of art as the fame of the person portrayed. Founded in 1856 as a collection of portraits of notable personalities, the gallery now contains more than 4,500 pictures, drawings, a recently extended collection of photographs and works of sculpture depicting people who have played a leading part in public life in Britain.
National Portrait Gallery Map
Important Information:
Address:
2 St Martin's Place, London WC2H OHE, England
Opening hours:
10am-6pm; Thu: 10am-9pm; Fri: 10am-9pm
Always closed on:
New Year's Day (Jan 1), May Day / Labor Day (May 1), Day after Christmas, St Stephen's Day, Boxing Day (Dec 26), Christmas - Christian (Dec 25), Christmas Eve - Christian (Dec 24), Good Friday - Christian
Useful tips:
Admission charged for some exhibitions. Touch tours of some exhibits are available for people who are blind or vision impaired. Captions are in large type and Braille.
Disability Access:
Full facilities for persons with disabilities.
Transit:
Underground: Charing Cross.
No portraits are put on display until the person concerned has been dead at least 10 years; only members of the royal family are excepted from this rule. For the most part the portraits are displayed in chronological order, the decoration of the rooms reflecting the particular epoch.Beginning on the top floor, the following guide is a brief summary of the collection and those exhibits of particular interest.The upper landing on the top floor (level four) is devoted to Henry VII and his ancestors. The exceptional life-size cartoon by Holbein of Henry VIII and a 14th century portrait of Geoffrey Chaucer, who lived for a time in London, are of interest.Three rooms on level five deal with the 16th century, containing portraits of Mary I by Hans Eworth and of Elizabeth I by an unknown artist, Shakespeare by John Taylor, miniatures of Walter Raleigh and Francis Drake by Hilliard. The following four rooms of 17th century personalities contain portraits of Charles I and Charles II, Oliver Cromwell, the Earl of Arundel (by Rubens) and the famous portrait of Samuel Pepys.The adjoining eight rooms are devoted to the 18th century and include pictures of Christopher Wren, Isaac Newton, the Duke of Marlborough and Robert Walpole (all by Godfrey Kneller). There are self-portraits by William Hogarth and Joshua Reynolds, Reynolds' portrait of Warren Hastings and John Webber's portrait of explorer James Cook.The last rooms on level five cover the late 18th century and early 19th century. Exhibits include portraits of Lord Byron (in costume), of Lord Nelson and Lady Hamilton, of Sir Walter Scott (by Landseer) and of the three Brontë sisters by their brother Branwell.The ground floor, level three, is devoted to personalities of the Victorian age, including Queen Victoria, Cecil Rhodes, Benjamin Disraeli, Henry James (by John Singer Sargent) and a caricature of Oscar Wilde. Early photographs are displayed, including one of Thomas Carlyle (1867).The 20th century is covered in rooms on level one and level two; paintings, photographs and sculptures from the times of T. E. Lawrence (of Arabia), James Joyce, Winston Churchill, John Maynard Keynes, to Margaret Thatcher and Princess Diana. There is a separate display of pictures of the royal family.
Map of London Attractions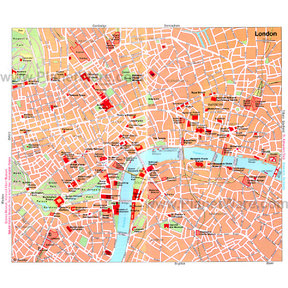 London Map