Museum of the Moving Image (MOMI) (CLOSED), London
One of the latest additions to London's many museums is the Museum of the Moving Image (or MOMI), created by members of the National Film Theatre, the National Film Archive and the British Film Institute. It was opened in September 1988 by the Princess of Wales and completes the South Bank arts complex. Over 50 display areas trace the history of "moving pictures" from their earliest years to the present day.
Museum of the Moving Image (MOMI) (CLOSED) Map
Throughout the museum, visitors are surrounded by projections of over 1,000 film excerpts using the latest laser technology and have many opportunities to join in the action. From the earliest Asian shadow projections, Chinese shades, the museum follows the development of cinematography to the invention of film and the Silent Film era. Exhibits include Charlie Chaplin's hat and cane, and sets from Fritz Lang's "Metropolis". There is a comprehensive guide to "talking pictures", including the first films, the British film, cartoons, Westerns and Horror to the modern-day fantasy films such as "E.T." Behind-the-scenes work of makeup and costume departments can also be seen. The history of television and modern video technology complete the exhibition. An ultra-modern cinema presents the full range of contemporary film and video technology.THIS ATTRACTION IS CLOSED.This museum was closed in 1999 to make way for refurbishment and relocation to nearby Jubilee Gardens, next to the London Eye ferris wheel. Momi will not reopen again in its past form however elements of its collection will tour the UK and some pieces will be displayed at the National Museum of Photography, Film and Television in Bradford.
Museum of the Moving Image (MOMI) (CLOSED) Highlight
National Film Theater
The National Film Theater features two cinemas showing annually more than 2,000 films devoted to specific subjects or directors.
Map of London Attractions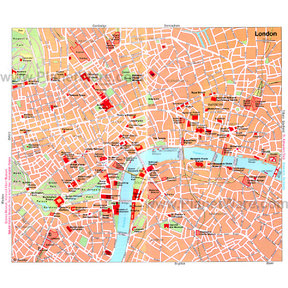 London Map