Museum of Science & Industry, London
The extensive collections of the Science Museum form an impressive illustration of the function of science in understanding and explaining the phenomena, the processes and the laws of nature and in providing the theoretical basis for the practical application of the results achieved. Models and displays, experimental apparatus and original pieces of equipment show the process of putting theoretical advances into practice and illustrate the progress of science and techology over the centuries.
Museum of Science & Industry Map
Important Information:
Address:
Exhibition Road, London SW7 2DD, England
Opening hours:
10am-6pm
Always closed on:
Christmas - Christian (Dec 25), Christmas Eve - Christian (Dec 24), Day after Christmas, St Stephen's Day, Boxing Day (Dec 26)
Disability Access:
Full facilities for persons with disabilities.
Facilities:
Gift shop, Restaurant or food service
Transit:
Underground: South Kensington; Buses: 14, 49, 74, 345, C1, 9, 9A, 10, 52
The various departments and galleries, on five floors (lower ground floor, ground floor, first, second and third floors), are excellently arranged and organized to cover the different fields (biochemistry, photography, cinematography, electronics, navigation, optics, acoustics, meteorology, geology, telegraphy, radio, television, astronomy, shipbuilding, aeronautics, industrial processes, etc.). Thus the section on gas illustrates the history of gas manufacture and distribution from the earliest days to the modern drilling platforms; the aeronautics gallery contains models and actual aircraft of different generations as well as hot-air balloons and other notable flying machines. There is a special children's gallery (Launch Pad), where children may carry out scientific experiments. The Sainsbury Gallery, contains the exhibition "Food for thought" on nutrition and food processing technology. A new gallery, Science in the 18th century, opened in 1993; it displays scientific apparatus once belonging to King George III. Of the museum's endless range of exhibits only a few can be selected to indicate the scope and interest of the collection:Galileo's telescopes; a microscope dated 1675; astronomical instruments; historic machines; Boulton and Watt's steam engine (1788); the oldest locomotive in the world ("Puffing Billy" 1813); the first mechanical loom; the oldest tin can (1823); historic laboratories and workshops; Graham Bell's first telephone; a telegraph (1845); one of the first short-wave transmitters; a typewriter (1875) with the original keyboard arrangement still in use today; Murdock's first gas-works; historic medical instruments; the original X-ray machines; chemical models including Watson and Crick's model of DNA; bicycles and aircraft; Otto Lilienthal's first glider; the Apollo 10 space capsule; a full- size replica of the Apollo 11 Lunar Lander; Soviet spacecraft and a Ford Edsel (1958) among the collection of vintage cars. The Science Museum is also famed for its library (480,000 volumes).
Museum of Science & Industry Pictures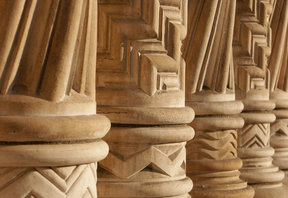 Map of London Attractions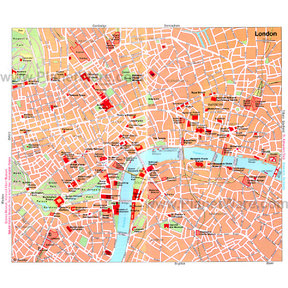 London Map