London Zoo
London Zoo, founded in 1829 by Sir Stamford Raffles and Sir Humphrey Davy, is one of the oldest and most famous zoos in the world and is one of London's most popular attractions, with more than one million visitors a year. Run by the Zoological Society of London, it is also a research institution, dedicated to the breeding and thereby saving of endangered species. Particular attractions are rare Asiatic lions, a special display of nocturnal animals, and from the summer 1994 a children's zoo. The main entrance is on the Outer Circle.
Important Information:
Address:
Outer Circle, Regent's Park, London NW1 4RY, England
Opening hours:
10am-5:30pm
Always opened on:
Spring Bank Holiday - Britain (last Monday, May), Summer Bank Holiday - Britain outside Scotland (last Monday, Aug)
Always closed on:
Christmas - Christian (Dec 25)
Entrance fee in GBP:
Family £49.00, Adult £15.40, Concession or reduced rate £13.90, Child 15 & under £11.90, Child 2 & under FREE
Useful tips:
Last admission one hour before closing. Group discounts available for 20 or more.
Disability Access:
Partial facilities for persons with disabilities.
Facilities:
Gift shop, Restaurant or food service
Transit:
Underground: Camden Town and bus274, Regent's Park, Baker Street.
London Zoo Highlights
Penguin Pool
The Regent's Park Zoo Penguin Pool (1934) is a small but charming modernist functional folly. It is one of a series of pavilions and buildings designed for London's Regent's Park Zoo by Lubetkin, Drake and Tecton. It main virtue, other than providing hours of entertainment for both penguin and penguin voyeur, is its seminal use of reinforced concrete to form the two interlocking concrete ramps. These sloping penguin podia are four feet wide and vary in thickness from six inches at the top to three inches at the bottom where they emerge into a pool of water and run, unsupported for a length of forty-six feet. Though the architect, Berthold Lubetkin was more influenced by Russian Constructivism, the penguin pool seems to owe more to French purist painting than to the Russian avant-garde.
Regent's Canal Boat Cruises
Various trips on Regent's Canal through the zoo are offered from little Venice or Camden Lock. Three companies run canal trips:Jason's Trip (Easter to October)60 Blomfield Road, W9; tel. 286 3428Jenny Wren Cruises (March to October; November to February weekends only, weather permitting)250 Camden High Street, NW1; tel. 485 6210London Waterbus Company (April to September; October to March, weekends only)Camden Lock Place, NW1 ; tel. 482 2550
London Zoo Pictures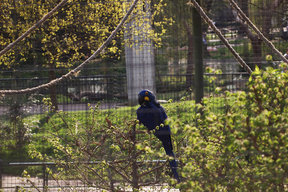 Map of London Attractions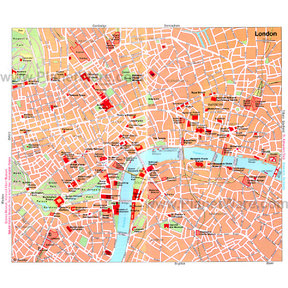 London Map