London Airports
The airports serving London are Gatwick Airport to the south of London, Heathrow Airport in West London, London City Airport in East London, Luton to the north of London, and Standsted to the northeast of London. All of these are international airports, with the last three servicing mainly European destinations and the servicing flights from around the world.
Related Attractions
London City Airport
At the end of 1987 the London City Airport was opened in the heart of Docklands. It is chiefly used by business people, serving Docklands as well as the City affording direct access to Canary Wharf and the Bank via the DLR system. Flights operate to many UK and European cities.Transfers to the City and central London:Bus: Two bus services are available for local transport to and from the airport.Docklands Light Railway: the new London City Airport extension is now open to passengers.Tube Link:Canning Town is the nearest underground station with connection to the DLR taking visitors to the London City Airport.Taxis services are also available.Airport Departure Tax:There is an airport departure tax from Britain.
Heathrow Airport
Heathrow is London's largest airport, and one of the busiest airports in the world, situated 15mi/24km west of the city. Many important international flights are operated from here. The following is a list of Terminal information.Terminal 1: Domestic services and to Ireland and some European and Intercontinental services;Terminal 2: European services and some long haul flights;Terminal 3: Intercontinental services;Terminal 4: British Airways, Air Lanka, Air Malta, KLM;Terminal 5: Shopping available
Stansted Airport
Stansted Airport, 37mi/59km northeast of London, is being developed as London's third major airport.The "hi-tech" terminal building was designed by Sir Norman Foster and opened in 1991.Stansted Airport has attracted a number of low cost carriers. It is also one of the fastest growing aiports in the United Kingdom. Due to the growth and huge number of travelers than come through here each year, a new runway is in the works.
Gatwick Airport
Gatwick Airport is situated about 27mi/45km south of London. Its two terminals handle both charter and regular flights.There is an automatic train which connects the two airport terminals with service every few minutes.Gatwick Airport is the world's busiest single runway airport.
London Airports Pictures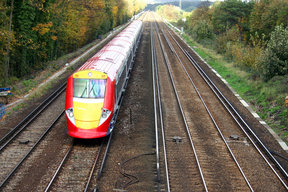 Map of London Attractions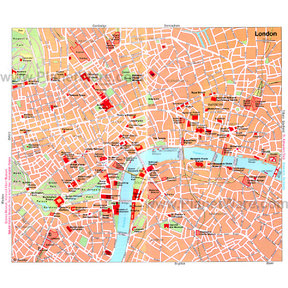 London Map