Kensington Palace, London
Kensington Palace, the private residence of the monarch from 1689 to 1760, is now in part open to the public. Much of it is still occupied by members of the royal family and pensioners of the Crown occupying "grace and favor" apartments. The original house was purchased by William III, who commissioned Wren to convert it into a royal residence, and the rebuilding was completed by William Kent in the reign of George I. The last king to reside in the palace was George II. Queen Victoria was born in Kensington Palace and received the news of her accession here, and Queen Mary, grandmother of the present Queen, was also born here. William III and Mary II, Queen Anne and George II died in the palace.
Important Information:
Address:
Kensington Gardens, London W8 4PX, England
Opening hours:
Mar 1 to Oct 31:
10am-6pm
Nov 1 to Feb 28:
10am-5pm
Always closed on:
New Year's Day (Jan 1), Day after Christmas, St Stephen's Day, Boxing Day (Dec 26), Christmas - Christian (Dec 25), Christmas Eve - Christian (Dec 24), Good Friday - Christian
Entrance fee in GBP:
Family £34.00, Adult £12.30, Group discounts £11.10, Senior over 60 £10.75, Child 16 & under £6.15, Child 5 & under FREE
Useful tips:
Photography prohibited. Last admission 1 hour prior to closing.
Disability Access:
Partial facilities for persons with disabilities.
Guides:
Guided tour included with admission.
Transit:
Underground: Queensway, High Street Kensington, Bayswater; Bus: 9, 9A, 10, 12, 27, 28, 31, 49, 52, 70, 94
Kensington Palace Highlights
State Apartments
The State Apartments on the first floor of Kensington Palace are open to the public; they are mostly furnished in the style of the 17th and 18th centuries. There is a special exhibition of coronation robes.The Queen's Staircase, designed by Sir Christopher Wren in 1690, leads to the Queen's Gallery, a room with oak paneling and decorated with royal portraits.There follows the dining room, living room, work room and bedroom of Queens Victoria, Mary and Anne. All the rooms contain the Queens' personal possessions.Passing through various rooms of Kings William III, George I and George II, the visitor enters King William's Gallery, a 32m/105ft long apartment which was designed by Wren. It contains pictures of London in the 18th and 19th centuries, a ceiling painting by Kent ("Adventures of Ulysses"), and woodcarving by Grinling Gibbons.Of the adjoining Victorian rooms the following are especially interesting: the Cupola Room, which has a blue and gold dome, was where Queen Victoria was baptized; the King's Drawing Room with a clock made in 1730 representing the "Temple of the Four Monarchies" (Assyria, Persia, Greece and Rome). Outside the south front of the palace is a statue of William III, presented to Edward VII by William II of Germany. On the east side is a statue of Queen Victoria.
Orangery
The Orangery (1704) near Kensington Palace was attributed to Christopher Wren but is probably by Nicholas Hawksmoor.
More Kensington Palace Pictures

Map of London Attractions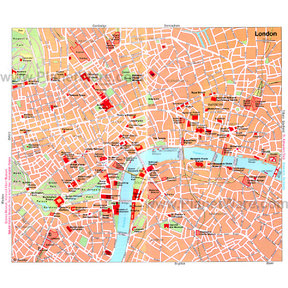 London Map