Isle of Dogs, London
The Isle of Dogs, at one time marshland on a wide bend of the river, forms the heart of the redevelopment. Its docks were named the East India and West India Docks, referring to the colonies where the cargo originated. As a result of the concentration of wharves and shipping lines, the Isle of Dogs became the center of London's heavy industry in the mid-19th century. The redevelopment has given the area an entirely different aspect: it is now a high-tech office and residential quarter of architectural innovation. The printing office of the Financial Times, designed by Nicholas Grimshaw, is one of the many modern buildings that has been architecturally acclaimed.The highlight of Isle of Dogs is Canary Wharf.
Related Attractions
Canary Wharf
Canary Wharf, situated between the two wharves of West India Docks, is the most ambitious development in Docklands. Canadian investors spent £1.7 billion in constructing a self-contained mini-city covering 28hectares/69acres with 1.1million sq.m/11.8million sq.ft of office space. The whole scheme floundered in 1992 when the investors went into liquidation, but not before the huge 244m/783ft central tower had been completed.Today Canary Wharf consists of a multitude of new towers for financial institutions, although Canary Wharf Tower still maintains the distinction of being the tallest. The area is an interesting sight and there are open air cafés for those who want to linger here.
Millwall Dock
Millwall Dock, near the center of the Isle of Dogs, is a commercial district with office towers, and apartment buildings. One of the important features in the Millway Dock area was the London Arena, which closed in 2005.The original Millwall Dock was built in 1868, and was the design of Sir John Fowler.
Island Gardens Park
Island Gardens Park is located on the southern tip of the Isle of Dogs. The area covers three acres along the waterfront and was first opened in 1895. The view from Island Gardens Park is of the famous scene depicted in the 18th century painting by Canaletto, called "a view of Greenwich from the River". The view takes in the Greenwich Hospital, Cutty Sark, and the National Maritime Museum, along with Greenwich Park. A foot tunnel runs under the Thames allowing access to Greenwhich from the Island Gardens Park.The DLR has an Island Gardens station in the vicinity.
Isle of Dogs Pictures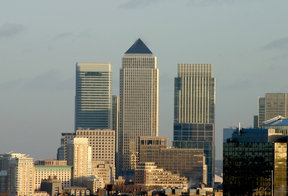 Map of London Attractions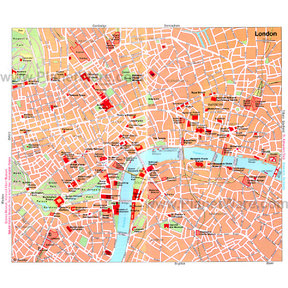 London Map