Bloomsbury, London
Lying between Maryleborne and the City is the district of Bloomsbury with its world renowned British Museum.
Related Attractions
Amongst the most popular attractions to visit in London, and one of the best in the world, is the British Museum. The Museum houses a wealth of artifacts and antiquities in a striking Neoclassical Building.
Foundling Museum (formerly Thomas Coram Foundation for Children)
The Foundling Hospital was established by Captain Thomas Coram in 1739 to care for abandoned children. William Hogarth painted a portrait of the founder and persuaded other artists to present pictures to the foundation in order to raise money for its charitable purposes. In 1926 the hospital moved to Berkhamsted but the gallery (Foundling Hospital Art Treasures) remained in London. It contains pictures by Hogarth, Reynolds, Kneller, Gainsborough and Millais, a cartoon by Raphael, mementos of Handel, who was a friend of Coram's, and various items connected with the history of the Foundling Hospital.
Bloomsbury Group
Situated in Gordon Square is the site where the famous members of the Bloomsbury Group first became acquainted.The meetings began with Virginia Stephen and her sister Vanessa leasing the house, thus escaping their parents' home in Kensington. From here, Thoby Stephen, Leonard Woolf, who would marry Virginia, Clive Bell, Lytton Strachey, Maynard Keynes and others, met to discuss their intellectual associations.
Dickens House Museum
In this house, Charles Dickens wrote Pickwick Papers, Oliver Twist, Nicholas Nickleby and Barnaby Rudge. He lived at this location from 1837 to 1839.
Pollock's Toy Museum
Pollock's Toy Museum contains a collection of toy theaters with colorful scenery and characters. Displays of dolls and teddy bears.
Map of London Attractions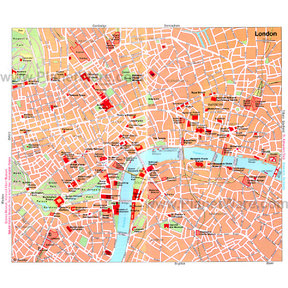 London Map