Barbican Centre, London
The Barbican Centre is situated about ten minutes' walk north of St Paul's Cathedral, between Barbican and Moorgate. The name "Barbican", a towered outpost on city walls, refers to this former site of Roman and Medieval fortifications. The development, which took more than 10 years, was originally planned by architects Chamberlin, Powell and Bon in 1955 and comprises flats for more than 4,000 people (including three tower blocks about 120m/394ft high) together with the integrated Barbican Centre which was opened in March 1982.
The outdoor attractions include a lake, lawns, fountains and terraces. The only pre-war building still standing is the restored St Giles' Church (originally built in 1390) where John Milton is buried. Here also are the Guildhall School of Music and Drama, a girls' secondary school and the science faculty of the City University. The new Music Performance Research Centre offers a facility to tune into London concerts and opera performances.The chief attraction, however, is undoubtedly the arts and conference center, the largest of its kind in Europe. The Barbican Hall (for concerts and conferences), which has 2,026 seats and simultaneous translation equipment, is the permanent home of the London Symphony Orchestra; the Barbican Theatre with 1,166 seats is the London base of the Royal Shakespeare Company. In addition there is a studio theater ("The Pit") holding 200, the Barbican Art Gallery for temporary exhibitions together with a sculpture court, a municipal lending library, rooms for seminars, three cinemas, two exhibition halls (the Blue Exhibition Hall and the Red Exhibition Hall on the other side of Beech Street), a conservatory and restaurants.
Related Attractions
Barbican Library
The Barbican Library is London's largest lending library.There are particular strengths in music including listening facilities and a practice piano.
Barbican Art Gallery
The Barbican Art Gallery offers a program of temporary exhibitions, the core of which consists of British 19th and 20th C painting, sculpture and photography.
Barbican Centre Pictures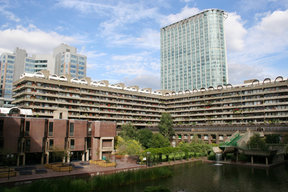 Map of London Attractions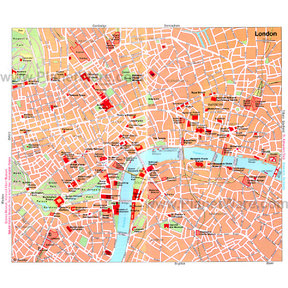 London Map