Other Sights
Related Attractions
Palácio Real das Necessidades
The Palácio Real das Necessidades today accommodates the foreign ministry and is therefore not open to the public. The building was constructed between 1745 and 1750 on the order of Joao V, who had taken a vow after a serious illness to have a royal palace built after his recovery. The building suffered little damage during the 1755 earthquake.Maria II and her husband, Ferdinand of Saxe-Coburg-Gotha, who had the Pena Palace in Sintra built, lived in the palace. Three of their sons died of a fever epidemic here. Manuel II resided in the building before he fled to Brazil in October 1910 after the revolution.The palace was built in a style typical of the reign of Joao V with Baroque and Classical elements. The two story main building which stands on the Largo das Necessidades forms only a small part of the entire complex. A portal with an arcade porch stands out strikingly from the uniform main facade. The tower of a castle chapel projects above the north side of the building.
Palacio das Necessidades
The wooded park enclosed fine trees like magnolias, dragon trees, redwoods and cedars. There is an ornamental zoo and an impressive domed conservatory.
Largo das Necessidades
An impressively lavish fountain with fantastic figures and an 18th C. obelisk stands on the Largo das Necessidades.
Tapada das Necessidades
An extensive area of parkland extends behind the Palácio Real das Necessidades. The Tapada das Necessidades, earlier used for hunting, can be visited on weekdays.
Parque do Monteiro-Mor
Although threatened by the surrounding and ever encroaching satellite quarters, the Monteiro-Mor Park lies in such a pleasantly idyllic location on the northern edge of Lisbon that it proves possible to go for a "country" walk there, without feeling spoiled by the proximity of the city. The park belongs to an 18th C. palace complex (Palácio do Monteiro-Mor), within which two interesting museums are currently accommodated.An extensive plant collection, interspersed with pools and ponds, has been laid out in the front part of the park. The mixture of formal and wild nature, fountains and weathered stone statues creates a unique and peaceful charm. The furthermost part of the park appears more rambling and lighter and is more in tune with the neighboring pastureland. An exclusive restaurant, which is always busy, is pleasantly situated on a terrace.
National Theater Museum
The National Theater Museum was set up in 1985 in a previously burned out building, which has been rebuilt to incorporate the most modern museum techniques. The museum's collection includes costumes, designs, stage props, tickets, posters, programs, records, etc. and documents in a series of temporary exhibitions the lives of stage stars and landmarks of the Portuguese theater.
National Costume Museum
In 1977 the National Costume Museum was set up in one of the palace buildings, which were built in the 18th C. and have been owned by various families. Not only national costumes are on view in the museum; the collection includes a wide variety of clothing of all types. The museum owns more than 20,000 exhibits from different centuries and from all parts of the country, most of which have been donated by private individuals and other Portuguese museums. In interesting temporary exhibitions marginal or overlapping themes are covered, e.g. the survey of a particular era by means of clothes and fashions.
Metro
The Lisbon Metro is a full metro which was opened in 1959. It carried 146.7million passengers in 1993. There are 25 stations on 19km of track. Trains run between 06:30 and 01:00 every two minutes during peak and every three to six minutes in off peak hours.A major expansion program now underway will transform the present network into three separate lines and add a new cross-city route. Extensions to all three routes are planned. Line A will be extended from Baixa-Chiado to CP's Santa Apolonia terminal, Line B from Campo Grande to Alto do Lumiar, and Line C from Campo Grande to Telheiras.Also under construction is new Line D from Alameda to Oriente, scheduled to open in 1997 to serve the Expo 98 site.
Nations Park
This is the site of the old Expo 98 Site, which is now called Parque das Nações. Much of the park is a pedestrian only zone and features impressive modern architecture, bars and restaurants, gardens, an oceanarium, and other attractions.
Other Sights Pictures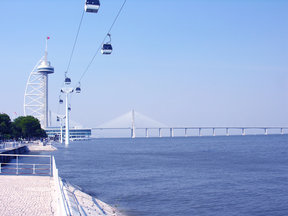 Map of Lisbon Attractions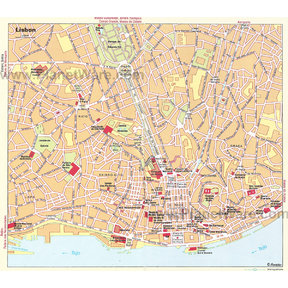 Lisbon Map