Gulbenkian Museum, Lisbon
Museu Calouste Gulbenkian
Portugal's decision to allow the Armenian oil magnate Calouste Sarkis Gulbenkian to enter the country in 1942 has certainly paid off handsomely for the cultural life of this small country on the southwestern edge of Europe.When Gulbenkian died in 1955 he bequeathed his estate to the Portuguese people and left written testimony that his fortune and his immense art collection should be used to equip a cultural foundation bearing his name.
Important Information:
Address:
Av.de Berna, 45 A, 1067-001 Lisboa, Portugal
Opening hours:
Jun 1 to Sep 30:
10am-5pm; Wed: 2pm-7:30pm; Sat: 2pm-7:30pm; Closed: Mon
Oct 1 to May 31:
10am-5pm; Closed: Mon
Always closed on:
New Year's Day (Jan 1), Anniversity of the Revolution - Portugal (Apr 25), May Day / Labor Day (May 1), National Day - Portugal (Jun 10), Assumption Day - Christian (Aug 15), Republic Day - Portugal (Oct 5), All Saints' Day - Christian (Nov 1), Feast of the Immaculate Conception (Dec 8), Independence Day - Portugal (Dec 1), Christmas - Christian (Dec 25), Good Friday - Christian, Corpus Christi - Christian
Entrance fee in EUR:
Adult €3.00, Senior FREE, Students FREE, Child FREE
Useful tips:
Admission is free on Sundays. Last admission half hour before closing.
Disability Access:
Full facilities for persons with disabilities.
Guides:
Guided tour available as optional extra.
Facilities:
Restaurant or food service
Transit:
Subway: Palhava, S. Sebastiao; Bus: 16, 26, 30, 31, 46, 56.
Following the terms of this endowment an extensive cultural center was built in Lisbon with several theater, concert and conference halls, a library and, not least, a museum which has since become world famous. In addition to all this individual grants are awarded and money is given to support cultural, social and scientific projects throughout the country. Thus Portugal is provided with a network of 230 libraries, of which 59 are set up as traveling libraries.The fact that the Gulbenkian Foundation has almost a monopoly on Portugal's cultural sector has not been without its problems. However, the opportunities gained by the country through this financial support can hardly be overestimated. The building of the foundation occurred during the time of the Salazar dictatorship. The government's fear of criticism from the cultural sector, which led, particularly in the literary sphere, to censorship, persecution and suppression (the then director of the Lisbon branch of the Goethe Institute, Curt Meyer-Clason, wrote about this in his "Portuguese Diaries") meant that at first only a "safe" area, namely music, was promoted.Thus a separate orchestra, choir and ballet corps developed during the 1960s. Since 1977 a concert featuring contemporary music has taken place each year, with another featuring old music since 1980. In the early 1970s a main focus of the foundation was on the production of Portuguese films with film retrospectives and festivals being mounted. The Museu Calouste Gulbenkian was opened in 1969 on the occasion of the Armenian's 100th anniversary.This fulfilllled one of Gulbenkian's wishes, that all his approximately 6,000 exhibits from all over the world should be accommodated under one roof - until then they had only been exhibited in parts in the Pombal palace in Oeiras. Since 1984 the Center of Modern Art has belonged to the Gulbenkian Foundation.Its collection of 20th C. Portuguese art is continually increased and adds to Gulbenkian's own collection, which goes up to Impressionism.An educational museum was set up in the park belonging to the foundation for further exhibits. Many, often international, exchange exhibitions are brought each year to Portugal by the Gulbenkian Foundation.The 25,000sq.m/89,700sq.ft complex housing the Gulbenkian Museum was built between 1964 and 1969 according to the plans of the architects Alberto Pessoa, Pedro Cid and Ruy Athouguia. In accordance with Gulbenkian's variety of art interests the collection exhibited encompasses an extraordinarily wide spectrum of artwork from every era.Tapestries and embroideries of exceptional quality are to be found in the collection.
Gulbenkian Museum Highlights
Gulbenkian Museum - Ancient Egyptian Art
Ancient Egyptian art: sculptures, reliefs, skeletons (2,700-1 B.C.).
Gulbenkian Museum - Greek-Roman Art
Greek-Roman art: Greek faience, marble sculptures (fifth century B.C.), Roman glassware (A.D. third and fourth century). Greek, Roman and Mesopotamian art; jewelry from the Hellenistic era (fourth-second century B.C.), faience from the Mesopotamian area (third or second century B.C.), a collection of Greek gold coins (561- 305 B.C.); coins found during excavations made in 1901 at Abukir (Egypt). As the coins obviously come from a series that refer to Alexander the Great it is assumed that the coins were struck on the occasion of the Olympic Games of 242/243 dedicated to Alexander the Great.
Gulbenkian Museum - Oriental-Islamic-Armenian Art
Oriental-Islamic art: Persian and Turkish faience (13th C. to 16th C.), Persian carpets (13th C. to 18th C.). Oriental-Islamic art, Armenian art: Persian book illustrations (16th C.), Turkish carpets, faience, tiles (16/17th C.), Syrian glass lamps (1fourth C.), Armenian book decoration (16th C. to 18th C.). Art from the Far East: Chinese porcelain from the T'sing Dynasty (17th C.) and the Ming Dynasty (1368-1644), Japanese lacquer work, medicine containers (13th/14th C.), pictures and illustrative drawings by the Japanese artist Sugakudo (19th C.).
Gulbenkian Museum - European Art
European art (11th-15th C.): book illustrations from France, Flanders, Italy, Holland, England (12th-15th C.), ivory carvings from France (11th-14th C.). Paintings and sculptures (14th-17th C.): exhibits include works by the German artists Tilman Riemenschneider, with two wooden statuettes, and Stefan Lochner, with the painting "Presentation in the Temple"; the Flemish painter Peter Paul Rubens ("Flight into Egypt", "Portrait of Hélène Fourment", "Centaurs"), Anton Van Dyck ("Portrait of a Man"), Jan Gossaert ("Virgin and Child") and Thierry Bouts; the Dutchman Rembrandt ("Pallas Athene", "Portrait of an Old Man"), Frans Hals with a portrait and Jacob Ruysdael with landscapes; the Italian artist Domenico Ghirlandaio and Guiliano Bugiardini with portrait paintings. Italian and French art from the Renaissance: wall hangings, wallcoverings, sculptures, garments, medallions.
Gulbenkian Museum - French Art
French decorative art (18th century): paintings and interiors, clocks, porcelain, furniture.Paintings and sculptures from France (18th century): including Houdon's "Diana"; this figure was owned by Catherine of Russia but was removed as it was considered too obscene: Gulbenkian finally bought it at an auction of the collection of the hermitage. French silverwork (18th century): utensils. Paintings from England (18th and 19th centuries): portraits and landscapes by Thomas Gainsborough, John Hoppner, George Romney, Sir Thomas Lawrence and Joseph Turner. Paintings from Italy (18th century): 19 Venetian views by Francisco Guardi. Paintings and sculpures from France, England and the USA (19th century): landscapes by Charles- François Daubigny, Jean-Baptiste Camille Corot, Stanilas Lepine; still-lifes by Henri Fantin- Latour; paintings by Edouard Manet ("Boy with Cherries", "Soap-bubbles") and by the Impressionists Claude Monet, Edgar Degas, Auguste Renoir; sculptures by Auguste Rodin, Jean-Baptiste Carpeaux and Antoine-Louis Barye; paintings by the American artists Mary Cassatt and John Singer Sargent and the English artist Edward Burne-Jones ("Mirror of Venus"). A bronze figure - one of the "Burghers of Calais" by Auguste Rodin - stands in the small inner courtyard, which can be seen from the foyer.
Gulbenkian Museum - Gulbenkian Memorial
On the Praça de Espanha, in front of the building complex, a 3m/10ft high seated bronze has been erected; it portrays Calouste Gulbenkian in front of a stone Horus falcon. The memorial is the work of Leopoldo de Almeida, who also created the statue of José I on horseback which stands on the Praça da Figueira.
Gulbenkian Museum - Rene Lalique Exhibit
Displayed in the basement, in rooms fitted out especially for it, is the marvelous collection of Art Nouveau pieces by the French artist René Lalique. Presented extremely attractively here, thanks to modern museum techniques, lovely glassware and, above all, many pieces of jewelry can be seen, some of which were created purely as commissions for Gulbenkian and were never meant to fulfillll their real role as jewelry. Gulbenkian and Lalique enjoyed a long friendship. Also located in the basement is a much visited public library which concentrates on the field of art and art history.
Gulbenkian Park
The park, into which the buildings of the Gulbenkian Foundation are integrated, covers an area of about 7ha/17 acres. A very great variety of native and tropical plants is to be found here, among which little streams and ponds with water lilies have been landscaped.Above all, however, the park serves as an open air museum for modern sculptures by artists from various countries, such as Henry Moore, Hein Semke, John van Alstine, Irene Vilar and Pierre Szekely. In addition, works by the Portuguese artists António Duarte, Jopao Cutileiro, Vasco Pereira da Conceiçao and Amaral da Cunha are on view.
Centro Artistico Infantil
Those with children will be pleased to know that in the Gulbenkian Park is a Centro Artistico Infantil, well stocked with toys and offering free 90-minute childcare sessions for 4-12 year olds between 9am and 5pm.
Parque do Museu Calouste Gulbenkian
The park is around the museum and the cultural center of the Calouste Gulbenkian Foundation. The artificial lake is surrounded by shrubberies, sculpture gardens, rose gardens, water gardens and open-air theater.
Center for Modern Art
The Center for Modern Art, located in the southwest corner of the Gulbenkian Park, was officially opened in 1984. The architecturally interesting building with its terraced, planted roof fits in marvelously with its parkland surroundings.Apart from an administrative wing, archives and function rooms, a large presentation area has been developed for 20th C. art. Temporary exhibitions, and some international touring exhibitions, are frequently mounted here.Work of this century by Portuguese artists can be seen in a permanent exhibition. Limited by Portugal's museum system, CAM's collection is not always representative, as small museums, usually well worth visiting, have often been set up in the town where an artist was born, or where he lived or worked for most of his life, and exclusively exhibit the work of that artist.Exhibits in the Center for Modern Art include many works by José Almada Negreiros (1893- 1970), one of Portugal's most famous "all round" artists of the 20th C. Included in the exhibits are the paintings that were hung in the cafe "A Brasileira" (see Chiado), and a very well known portrait of Fernando Pessoa, variations of which have entered into everyday art.A depiction of Pessoa with his three most famous heteronyms was painted by António Costa-Pinheiro (born in 1937). Of interest are the works of Eduardo Viana (1881-1967), Armadeo de Souza-Cardosa (1887-1918), Marcelino Vespeira (born in 1925) and the poet and artist Júlio (1902-83), in which both a leaning towards and a clash with pictures by famous European artists and art trends, such as cubism, fauvism and surrealism, are seen.The artist Maria Vieira da Silva (born in 1908), whose works can also be seen in Lisbon's metro stations, has become famous beyond Portugal. The paintings of Mário Eloy (1900-51) demonstrate a unique style influenced by Portuguese themes; famous and well loved are the views of Lisbon by Carlos Botelho (1899-1982). Amongst sculptors, Joao Cutileiro (born in 1937) has made a name for himself.Of the newer artists, Paula Rego, Teresa Magalhaes, Graça Morais, Rui Sanches and José Pedro Croft stand out.
Map - Gulbenkian Museum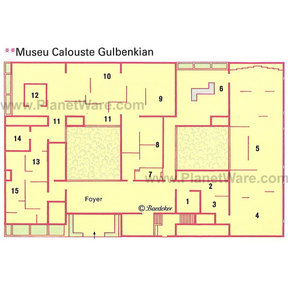 Map - Lisbon - Museu Calouste Gulbenkian
Map of Lisbon Attractions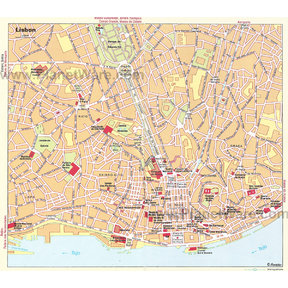 Lisbon Map