Amoreiras Shopping Center, Lisbon
Since the mid 1980s, Lisbon's northwestern skyline has been characterized by a high rise building complex designed by the architect Tómas Taveira. The building style of the twelve story block is striking and has been designated by the architect himself as "Neo Modern". The whole building project was hotly disputed as soon as it was unveiled - namely because the unusual style and coloring of the architecture clashes with the predominantly older constructions of the city. In the meantime, buildings in this unmistakable style can continually be found within Lisbon; Tómas Taveira has meanwhile become one of the Portuguese capital's leading architects. The Amoreiras quarter owes its name to the mulberry trees which Minister Pombal had planted in the 18th C. at the Praça das Amoreiras next to the Mae d'Água, a castle surrounded by water. Silkworms were then released here and a silk factory established.The three tower blocks and the neighboring lower building complex accommodate offices, luxury flats and cinemas. Today the name Amoreiras signifies first of all the spacious, fully air conditioned shopping center located on the two bottom floors. With about 350 shops covering 86,000sq.m/102,856sq.yd and parking spaces for 1,200 cars, it constitutes Europe's sixth largest center of this type. When it opened in 1985, it covered almost twelve times the area of the Centro Comercial Alvalade, until then the largest center. Some of the shops are very luxurious, prices are very high for Portugal and typical Portuguese goods cannot be found anywhere in the complex. All in all the interior could be mistaken for any shopping center in other Western capital cities. This becomes more striking when the center is compared with the many small, dark shops in Lisbon's old quarters such as Alfama and Bairro Alto. It is a delight to experience the variety of choice to be found here within one city but at the same time it is possible to sense what the Portuguese capital stands to lose through the Western tendency to standardization. The people of Lisbon love their shopping center; it represents a real contrast to the traditional shopping areas in Baixa and Chiado. The turnover of the Amoreiras Shopping Center accounts for 13-15% of the total Lisbon retail trade. Its integrated cinemas and restaurants have made it a well frequented meeting place until midnight.
Address:
Amoreiras Shopping Center Loja 2037, 1070-103 Lisboa, Portugal
Opening hours:
10am-11pm
Always closed on:
Christmas - Christian (Dec 25)
Disability Access:
Full facilities for persons with disabilities.
Facilities:
Restaurant or food service
Transit:
Bus: 11, 23, 53; Metro: Rotunda
Map - Amoreiras Shopping Center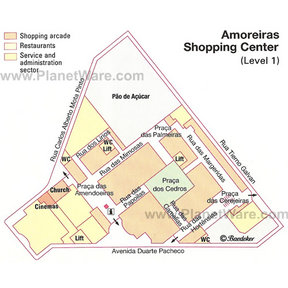 Map - Amoreiras Shopping Centre (Level 1)
Map of Lisbon Attractions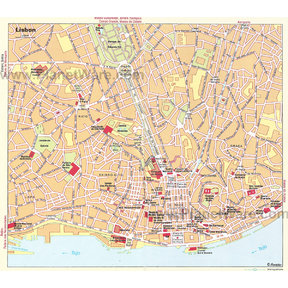 Lisbon Map