Linz Schloss
On a hill high above the Danube stands the handsome Linz Schloss, built in the 15th century as the residence of the Emperor Frederick II, enlarged in the 16th century and rebuilt after a fire in 1800. Of the original building only the west gate (1481) survives. The interior was remodeled in 1960-63, and the building now houses the Schlossmuseum, with the artistic and historical collections of the Provincial Museum.
Important Information:
Opening hours:
9am-5pm; Sun: 10am-4pm; Sat: 10am-4pm; Closed: Mon
On display are items from the prehistoric, early historical, Roman and medieval periods, including paintings, sculpture, arms and armor, etc. Also worth seeing is the Railroad Exhibition (occasional special exhibitions).The current structure includes a four-story building with two inner courtyards and a main gate facing the town.The castle served as a hospital during the wars with France in the late 18th and early 19th centuries.It was also the site of a fire in 1800, that ended up burning a considerable part of the town.In 1811 it served as the provincial prison, and between 1851 and 1945 as the local barracks.
Related Attractions
St Martin's Church
Below the Linz castle to the west, in Römerstrasse, stands the little St Martin's Church (Martinskirche), the oldest church in Austria preserved in its original form. Built on the remains of Roman walls and first recorded in 799, it is a characteristic example of Carolingian architecture. The frescos in the interior date from the 15th C.Excavation at the site has revealed the royal hall of the imperial palace. The side walls still stand, showing outlines of doorways and windows dating from the Gothic period. A Roman oven can also be seen.Also note the many stones inside the church bearing Roman inscriptions.
Map of Linz Attractions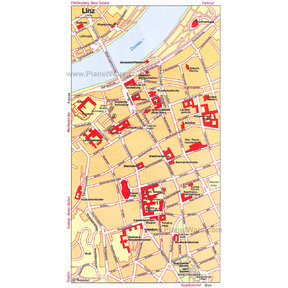 Linz Map
More Linz, Austria Attractions
Popular Destinations Nearby