Right Bank Of the Meuse
Related Attractions
Outre-Meuse
The Pont des Arches links the Old Town with the district of Outre-Meuse lying between the Meuse and a canal of the Ourthe. It is the most colorful and extrovert quarter of the city where in 1927 the not entirely serious République Outre-Meuse and the Commune de Saint-Pholien proclaimed themselves "free states", thereby keeping the custom alive. Pure dialect is still spoken here and this is the home of "Tchantchès" (Walloon for François), the symbolic figure of the population of Liège, allegedly born in 760, adviser to Charlemagne and companion of Roland, who first appeared as a marionette in 1836 together with "Polichinelle" and "Guignol" in the puppet theater. A monument to him was placed at the Place d'Yser in 1936.
Musée Tchantchès
To the south in Rue Surelet the Musée Tchantchès documents the history of this popular figure with over 200 of its costumes and a notable collection of puppets.
Maison Grétry
Not far from the site of the Tchantchès monument the composer André-Ernest-Modeste Grétry was born (1741-1813). His birthplace is open to visitors on request.
Musée de Zoologie with Aquarium
On the Meuse near the Pont John F. Kennedy the Musée de Zoologie with an aquarium is part of the Zoological Institute of the University. There is a coral collection, a zoological collection and 26 ponds containing exotic fish.
Science House
The Maison de la Science contains exhibits dedicated to science exploration and education. A number of fields are represented, from biology to chemistry to physics. Many of the demonstrations are "hands-on" and they are reflected in the museum's motto, "don't forget to touch".
Blégny - Parc de Boverie
South of the Pont Albert I (Pont de Commerce) is the Parc de Boverie with the Palais de Justice (1952-1958) and the Tour spatio-dynamique et cybernétique, a 52m/170ft-high bizarre steel construction.
Map of Liege Attractions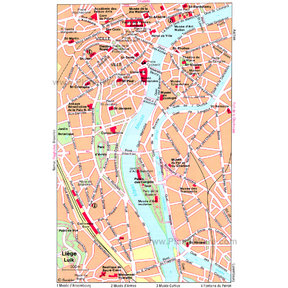 Liege Map
More Liege Attractions
Popular Destinations Nearby