On the Meuse
Related Attractions
La Batte
The return from Saint-Barthélemy and around the block of houses between En Féronstrée and the Meuse leads to the quays Quai de Maestricht, Quai de la Batte, Quai de la Goffe and Quai sur la Meuse.
Pont des Arches
Further along the river bank, with a view of the Pont des Arches, which was built 1858-1862 to replace the oldest bridge (11th C.) over the Meuse, between the Rue du Pont and the Rue de la Halle aux Viandes stands the Meat Hall, built 1544-1546. Behind it on the right on the corner of Rue de la Boucherie/Potiérue is Maison Havart, a historic inn from 1594, dominated by the Cité Administrative, the City Administration building. From here it is a short distance back to Féronstrée.
Batte Sunday Market
This market is open daily and provides a variety of merchandise for purchase. For the best haggling results, go earliest possible between 9am and noon.
La Batte Flea Market
A market is held on Quai de la Batte every Sunday offering everything from a flea market to food and vegetables.
Arms Museum
First at No. 8 Quai de Maestricht is the Musée d'Armes (Arms Museum). It has a magnificent collection of small arms (12,500 exhibits) documenting the tradition of weapons manufacture in Liège dating back to the 14th C. Worth particular mention is a room containing splendid ornate weapons and a collection of hunting and blank guns.
Curtius Museum
The Musée Curtius is in the former mansion of the Jean Curtius (1551-1628), once supplier to the Spanish army. Between 1600 and 1610 he had this exemplary red brick house built on the river bank in the style of the Mosan Renaissance. The museum which now occupies the house contains in two departments exhibits from prehistoric, Roman and Frankish-Medieval periods together with furniture and decorative art collections from the Middle Ages to the French Revolution. Only the most notable pieces from its valuable collections are listed: on the ground floor Roman bronzes, a Roman ceramic mask and a unique Roman glass service, Merovingian everyday objects, wonderful early Romanesque ivory carvings including a figure of Christ from Amay and Bishop Notker's Evangelistery (around 1100), the museum's pièce de résistance; on the first floor the finely worked Madonna by Dom Rupert (around 1140), the wooden tympanum with the "Mystery of Apollo" (around 1150), lavishly decorated Renaissance rooms; finally on the second floor a collection of coins from Liège.
Glass Museum
In an annex of the Musée Curtius the Musée du Verre (Glass Museum) has a collection of over 10,000 glass exhibits from the fifth C. BC to the present, among them highly original Art Nouveau glasses and vases.
Map of Liege Attractions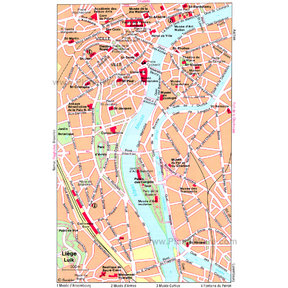 Liege Map
More Liege Attractions
Popular Destinations Nearby