Along the Féronstrée, Liège
This street runs from the east side of the market square through the heart of the Old Town to the church of Saint-Barthélemy. Its name is a reminder that in the Middle Ages the forges, iron foundries and the offices of the metal merchants together with the guilds' meeting houses were found here. Most of the buildings which escaped demolition are from the 18th C.
Related Attractions
Musée de l'Art Wallon
About halfway along this street is the Ilôt Saint-Georges Complex with the Musée de l'Art Wallon which houses paintings, sculptures and drawings by Walloon artists such as Joachim Patinir, Lambert Lombard, Henri Blès and Jean Delcour.
Musée Ansembourg
A short distance past the Ilôt Saint-Georges is the beautiful facade of the house built 1735- 1740 for Michel Willems, a patrician whose granddaughter married a Count Ansembourg.Converted into a museum it is an eloquent example of the bourgeois lifestyle of the nobility in the 18th C. It contains a wooden Madonna from Delcour in the entrance hall, leather wall hangings from Córdoba, a stucco ceiling and an exemplary china cabinet in the dining room, tapestries in the Salon des Tapisseries from Oudenaarde and a magnificent inlaid table from the Prince-Bishop's palace as well as a huge fireplace on the upper floor with the portrait of the head of the house hanging above it and a large inlaid table from Liège.
Saint-Barthélemy
The second street on the left past the Musée Ansembourg leads to the church of Saint-Barthélemy. It was built in the 11th-12th C. with three aisles and extended in the 18th C. by two main aisles and a side aisle. The west front with its two towers is characteristic of Rhine and Mosan Romanesque church architecture. The late 11th C. choir is also of interest. The interior houses paintings by Bertholet Flémalle (1614-1675) and Englebert Fisen (1655-1733), both from Liège.
Saint-Barthélemy Bronze Font
The most valuable treasure is the bronze font cast by Renier de Huy between 1107 and 1118. It rests on 12 bulls, symbolizing the Apostles, and is splendidly decorated with five baptismal reliefs. Originally the font stood in the Notre-Dame-aux-Fonts church which was destroyed during the French Revolution; it was brought to its present location for safety.
Map of Liege Attractions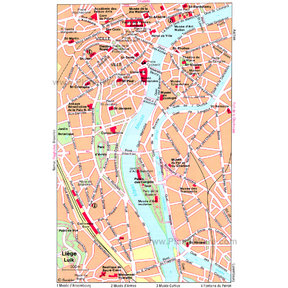 Liege Map
More Liege Attractions
Popular Destinations Nearby