St Pieterskerk, Leyden
A little way west of the Town Hall is the old St Pieterskerk, in which the liberation of Leiden from Spanish rule is celebrated every year on October 3. The foundations of this Late-Gothic cruciform basilica date from 1121, when Leiden's first church was built on this site. At the beginning of the 13th century the building of a new and larger church was begun by Rutger van Kampen.
Important Information:
Address:
Kloksteeg 16, Leiden, Zuid-Holland 2311 SL, Netherlands
Opening hours:
1:30pm-4pm
The choir was completed in 1339, the nave with its double aisles later in the 14th century. In 1412 the choir was enlarged by the addition of an ambulatory. At the west end of the nave was a 110m/360ft high tower, which collapsed in 1512 and was not rebuilt. The timber barrel-vaulting extends to the west front, built on to which is a small porch-like structure with a pitched roof.The church contains the monuments of various university professors; in one of the side chapels is buried John Robinson, who in 1611 founded the first congregation of Independents (Puritans driven out of England) in Leiden; a small monument commemorates Herman Boerhaave; and the painter Jan Steen is also buried in the church. The Late-Gothic carved wooden altar dates from the first half of the 16th century. The organ was built about 1640. As the congregation of the church (Reformed) dwindled and lacked the resources to carry out necessary renovation it was taken over by a private foundation and made available for various public purposes (University and school examinations, trade fairs, exhibitions, etc.).
Map of Leyden Attractions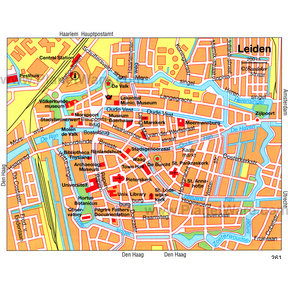 Leyden Map
Popular Destinations Nearby