Augustusplatz, Leipzig
Augustusplatz originally lay outside the Leipzig town walls, and until 1831 one of the old town gates, the Grimma Gate, stood here.In the Augustusplatz are several attractions, including an Egyptian Museum, the University, the railroad station and many others.
Related Attractions
University
The dominant feature in Augustusplatz in Leipzig is now the 34-story high-rise block (1973; 142.5 m/468ft high) occupied by the University, with a panoramic cafe at 110 m/360ft. The University church which formerly stood here was demolished after suffering heavy destruction during the war.Incorporated in the lecture theater block is the Schinkeltor (by K. F. Schinkel and Ernst Rietschel, 1836), the entrance to the old University, the Augusteum.
Botanischer Garten der Universität Leipzig
The Botanical Garden at the University began in 1877 as a medicinal plant garden. In the Second World War the garden was almost completely destroyed. It began to flower again after 1945 and features over 9,000 plants.
Moritzbastei
Adjoining the University in Leipzig's Augustusplatz is the old Moritzbastei (Bastion; 1515), the only relic of the town's old fortifications.
Egyptian Museum
At Schillerstrasse 6 in Leipzig can be found the interesting Egyptian Museum.
Neues Gewandhaus
Immediately east of the University in Leipzig is the new Gewandhaus (by R. Skoda, 1981), a magnificent new home for the world-famed Gewandhaus Orchestra. The three-story hall, with the amphitheater-like Grosser Saal (Schuke organ) and Kleiner Saal, is decorated with numerous paintings by modern artists.
Railroad Station
From Augustusplatz in Leipzig Goethestrasse and the Georgiring lead north to the monumental railroad station (1902-15), the largest railroad terminal in Europe.
Grassi Museum
East of Leipzig's Augustusplatz, in Johannisplatz, is the Grassi Museum (1925-27), built of red Rochlitz porphyry (ethnography, applied and decorative art, musical instruments).
Map of Leipzig Attractions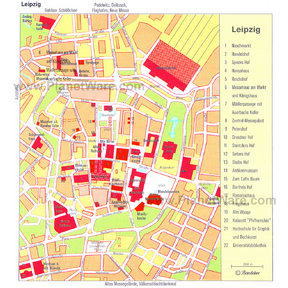 Leipzig Map
Popular Destinations Nearby