Town Center, Lausanne
Sights in the center of Lausanne include St-François church, Bel-Air Métropole, Palais de Rumine and the Museums of Art and Natural History.
Related Attractions
St François Church
The hub of Lausanne's traffic is the Place St-François, surrounded by large office blocks and the Head Post Office. In the middle of the square stands the former Franciscan church of St-François (13th-14th C.; beautiful stained glass of 1907 in choir), with a tower of 1523.A little way east is the Derrière Bourg park (fine views). From Place St-François take Rue de Bourg (pedestrians only) and Rue Caroline and then turn left over the Pont Bessières (1910) to reach the cathedral.
Bel-Air Métropole
The Grand-Pont (1839-44), an arched viaduct 180 m/591ft long from which there is an attractive view of the old town and the cathedral, runs northwest from Place St-François into the busy imposing Bel-Air Métropole office block (1932; restaurant and cafe), crowned by a tower block 67 m/220ft high (20 stories).
St-Laurent Church
From Place Bel-Air, Rue Haldimand runs northeast, passing on the right the Protestant church of St-Laurent (1719; Baroque facade).
Round Tower
From the church of St-Laurent, Rue de l'Ale in Lausanne runs northwest to the Tour De l'Ale, a round tower 21 m/69ft high which is the only remnant of the town's 14th C. fortifications.
Town Hall
A little way south of Place de la Riponne (pedestrian precinct) is Place de la Palud, in which is situated the Hôtel de Ville (Town Hall, 15th and 17th C.; 16th C. stained glass). From here the Escaliers du MarchG, a covered flight of steps, lead up to the cathedral, in the Cité (which can also be reached from Place de la Riponne by a flight of steps to the right of the University and Rue Pierre-Viret).
Map of Lausanne Attractions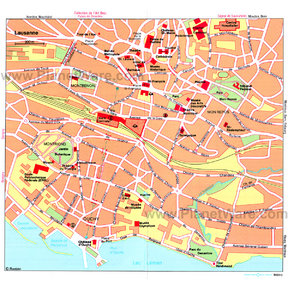 Lausanne Map
More Lausanne Attractions
Popular Destinations Nearby