Old Town, Lausanne
Cité
Sights in Lausanne's Old Town include the Cathedral, the Musée Historique de L'Ancien Evêché and a pipe museum.
Related Attractions
Cathedral of Notre-Dame
Lausanne's Cathedral of Notre-Dame (Protestant), consecrated by Pope Gregory X in the presence of King Rudolf of Habsburg in 1275, is an Early Gothic building with five towers (central tower, 75 m/246ft high, 1876; a watchman calls out the hours from the bell-cage during the night). The main doorway (16th C.) and the "Apostles' doorway" (13th C.) have very fine sculptured decoration (copies: originals under the rose-window). The restoration work, which has been taking place for years, should be completed by the end of the century.
Cathedral, Rose-window
The interior of Lausanne's Cathedral is notable for its noble proportions. In the south transept is a large rose-window with beautiful 13th C. stained glass (the Universe); the south aisle has carved choir stalls of 1509; in the choir are remains of early Gothic stalls and (on left) the tomb of the Minnesinger Otto of Grandson (d. 1328); in the crypt are to be found remains of an eighth C. basilica, with old tombs.
Historic (Cathedral Museum)
Lausanne's cathedral houses a collection of Lausanne paintings, drawings, engravings and photographs. Furniture, silver, toys, costumes and weapons are offered plus a gallery of musical instruments is on site.
Academy
North of Lausanne's cathedral is the former Academy (1587), the forerunner of the University, where famous professors such as Sainte-Beuve and Adam Mickiewicz gave their lectures.
Château St-Maire
North of Lausanne's Pipe Museum is the Château St-Maire (1397-1431), originally the bishop's palace, residence of the Bernese government from 1536 to 1798, and now occupied by the cantonal government. This cubic building of sandstone and brick has 15th and 16th C. allegorical frescoes.
Cantonal Parliament
To the left of Lausanne's Château St-Maire, on the west terrace, is the Grand Conseil (the cantonal parliament; 1803-1806 by A. Perregaux), with its Classical facade.
Cantonal Geological Museum
Thousands of paleontological finds, fossils and minerals, both Swiss and foreign are on display.
East of the Old Town
Sights in the area east of Lausanne's Old Town include the park of Mon Repos and the Federal Court building.
Mon Repos Palace
On the east side of Lausanne is the beautiful old park of Mon Repos with an 18th C. palace of the same name rebuilt in the 19th C. by L. Damesme. Nowadays, the building where Voltaire staged his play "Zaïre", is used for official visits.
Federal Court
To the north of Lausanne's Mon Repos park, the Federal Court (Tribunal Fédéral; conducted tours) is housed in a building erected in 1922-27.
North of the Old Town
Sights in the area north of Lausanne's Old Town include: Signal de Sauvabelin, Bois de Sauvabelin and the Palais de Beaulieu.
Map of Lausanne Attractions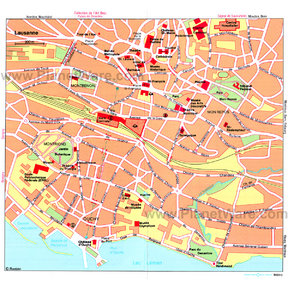 Lausanne Map
More Lausanne Attractions
Popular Destinations Nearby