Kitzbüheler Horn
The Kitzbüheler Horn, northeast of Kitzbühel (1,998m/6,555ft; house on the summit (Gipfelhaus), chapel, restaurant, radio mast), can be easily reached by cableway via the Pletzeralm (1,273m/4,177ft) or climbed from Kitzbühel in four to five hours. From the summit there are glorious views - to the south from the Radstädter Tauern to the Ötztal Alps, to the north the nearby Kaisergebirge, away in the west the Lechtal Alps and to the east the Hochkönig. To the south of the Kitzbüheler Horn rises the Hornköpfli (1,772m/5,814ft), also reached by cableway.During the skiing season the mountains in the immediate vicinity of Kitzbühel are thronged with skiers from all over the world, who are catered to by numerous cableways and ski lifts on the slopes of the Kitzbüheler Horn, above St Johann to the northeast, and the Hahnenkamm (1,655m/5,430ft) and the Steinbergkogel (1,970m/6,464ft) to the southwest.
Important Information:
Address:
Franz Reisch, Panoramastraße, Austria
Related Attractions
Alpine Flower Garden
Near the house on the summit (Gipfelhaus) of Kitzbüheler Horn an Alpine garden has been laid out (20,000sq.m/24,000sq.yd), with Alpine plants of every description.
Hahnenkamm - Alpine Flower Garden
On the Hahnenkamm is an Alpine flower garden.
Ski Circus
With numerous cableways and ski lifts, the Kitzbühel area is a Mecca for skiers in winter, the whole complex of facilities being known as the "Kitzbüheler Skizirkus". Linked with the "ski circus" are the cableways, ski lifts and pistes of Aschau, Aurach, Jochberg, Pass Thurn and Kirchberg, from which the extensive skiing areas on the Hahnenkamm and Kitzbüheler Horn can also be reached.Despite the crowds, especially during the famed World Cup downhill on the Hahnenkamm, the discos and the shops, Kitzbühel manages to retain a Tirolean charm. The partly-walled town with a 700-year history has lively streets with a medieval charm and 160 km of runs served by 64 lifts in the area. Because it is relatively low at 800 meters above sea level snow conditions can be a problem early or late in the season. Located seven km to the west, the town of Kirchberg is a quieter and less expensive alternative to Kitzbühel although it shares the same skiing area. The lift lines, which can be problem at Kitzbühel, are also shorter at Kirchberg. Despite the reputation of the Hahnenkamm as the most challenging of the men's downhill races, there is skiing for all levels of ability.
Map of Kitzbuhel Attractions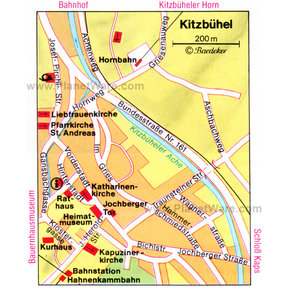 Kitzbuhel Map
Popular Destinations Nearby