St Canice's Cathedral, Kilkenny
At the north end of the town of Kilkenny, just off Vicar Street, stands St Canice's Cathedral, one of Ireland's finest cathedrals. Built on the site of an earlier church, it was begun about 1251 and completed in 1820. The massive squat tower (14th C.) and the walls of the aisles, transepts and clerestory are all topped by crenellations. In spite of much restoration (most recently in 1863-1864) the interior has preserved its spacious character.
St Canice's Cathedral Map
Important Information:
Opening hours:
Apr 9 to Sep 30:
9am-1pm, 2pm-6pm; Sun: 9am-1pm, 2pm-6pm; Closed: Mon, Tue, Thu, Fri
Oct 1 to Apr 8:
10am-1pm, 2pm-4pm; Sun: 10am-1pm, 2pm-4pm; Wed: 11:15am-1pm, 2pm-4pm
Disability Access:
Full facilities for persons with disabilities.
It contains many fine monuments, including the tombs of the son of Henry de Ponto (1285: the oldest) and of Edmund Purcell (1549), both in the north aisle. The Purcell tomb has a carving of a theme frequently found in Irish sculpture - a cock crowing on the edge of a cooking pot. This is a representation of the old Irish legend that after Christ's Resurrection a servant carried the news to the High Priest's kitchen. The cook scoffed at the story - as unlikely, he said, as that the cock cooking in the pot would come to life again: whereupon the cock jumped out of the pot and crowed.In the choir can be seen the tombs of Bishop de Ledrede (d. 1360) and Bishop Rothe; in the south transept the tomb of the eighth Earl of Ormond and his wife (1539); and in the south aisle the tombs of Viscount Mountgarret, in armour, Bishop Walsh (1585) and a lady in old Irish dress. In the north transept is St Ciarán's Chair, of black marble, and in the nave a 12th C. font.By the south transept stands a 100ft/30m high round tower with numerous windows; the roof is not original. From the top (admission charge) there are fine views of the city and surrounding area.
Related Attractions
St Canice's Steps
From St Canice's Cathedral, St Canice's Steps (1614) lead down to Dean Street.
Map of Kilkenny Attractions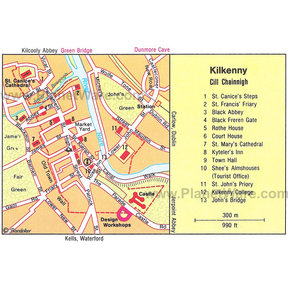 Kilkenny Map
More Kilkenny Attractions
Popular Destinations Nearby