Hanuman Dhoka, Kathmandu
Between the Degutale Temple and the Taleju Mandir the main façade of the palace turns at right angles, creating a forecourt called Hanuman Dhoka after the palace deity (the Mallas chose Hanuman the monkey god on account of his prodigious strength). In 1672, during Pratapa Malla's reign, an image of Hanuman was placed in front of the portal to keep away evil spirits and disease. The figure still looks threatening though centuries of anointing with mustard oil and cinnebar (vermilion) have eroded its features.
Related Attractions
Gate
The Hanuman Dhoka Gate was remodeled in the 19th c. A row of brightly painted figures above it includes, on the right, King Pratapa Malla and his Queen. The exquisite golden entrance door was financed by subscription. In 1810, at the time of the Shahs, the 100 copper plaques with inscriptions dating from the Malla period were deemed worthless and sold. The gate is guarded by a pair of stone lions with Shiva and his shakti seated on their backs.
Prayer to Kali
Set in the palace wall on the north side of the gate, opposite the Jagannath Temple, are stone plaques with engravings of Pratapa Malla's "Prayer to Kali" translated into fifteen different languages. The other wing, between the gate and the Degutale Mandir, was rebuilt in the early 19th c. A large hall in the upper story now houses a numismatic collection. The Islamic-style façade (1810) to the west of the Degutale Temple hides some of the oldest sections of the palace.
Map of Kathmandu Attractions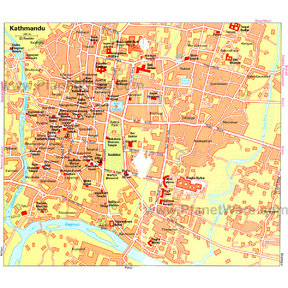 Kathmandu Map
More Kathmandu Attractions