Surroundings, Ocho Rios
Related Attractions
Port Maria, Jamaica
Situated on Pagee Beach, Port Maria has some well preserved buildings of the colonial period.
Brimmer Hall
Brimmer Hall at Port Maria is an operational banana and coconut plantation that can be toured with guides describing the tropical flora.
Firefly
Firefly is playwright Noel Coward's Jamaican retreat and the site of his grave. Built on a hilltop that was once a lookout point for the pirate Henry Morgan, the house is now open to the public for tours and afternoon tea.
Oracabessa, Jamaica
Oracabessa, which translates to 'golden head' is mainly an agricultural town 6mi/10km from Ocho Rios.
James Bond Beach Club
James Bond Beach is situated on a private peninsula 20 minutes from Ocho Rios with three white sand beaches. The beach is equipped with a restaurant. Jet skis, kayaks and glass- bottomed boats are available.
Goldeneye
James Bond's creator, Ian Fleming, lived at Goldeneye which is now an exclusive villa resort with a celebrity clientele, close to James Bond Beach.
St Ann's Bay, Jamaica
Black activist Marcus Garvey was born in St Ann's Bay where a statue of Garvey stands. Columbus spent over a year here as he was shipwrecked nearby.
St Ann's - Cranbrook Flower Forest
Cranbrook Flower Forest is sited on 120ac/48ha of land, one-fifth of which is landscaped and includes a river path, nature walk and water gardens.Giant tree ferns, torch ginger and Bird of Paradise catch the eye of gardeners and photographers. Lawn croquet, volley ball and donkey rides are provided.
Seville Great House and Heritage Park
Seville Great House and Heritage Park provides a journey through the centuries to the very beginnings of Jamaica's history. Artifacts from the excavated colony of Sevilla La Nueva (New Seville) that was founded in 1509 by Columbus's son are on display. A statue of Columbus cast in Genoa is on-site.
Nine Mile - Bob Marley's Birthplace
Nine Mile, is a small village known for being the birthplace of Reggae legend Bob Marley. A Rastafarian guide shows visitors Marley's childhood home and the mausoleum where he is buried.
Surroundings Pictures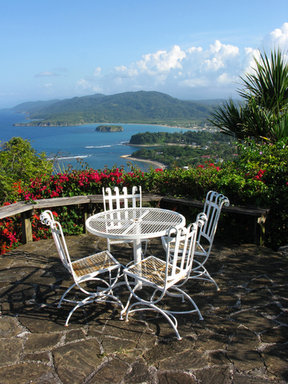 Map of Ocho Rios Attractions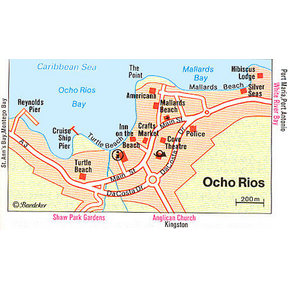 Ocho Rios Map
Popular Destinations Nearby