Surroundings, Syracuse
Related Attractions
Thapsos, Italy
Thapsos lies 18km/11mi northwest of Syracuse. Take the SS 114 as far as Priolo Gargallo, then turn towards the sea past the Priolo Melilli rail station to the Magnisi peninsula. This was the site of the Greek Bronze Age settlement of Thapsos, after which the Thapsos Culture (15th-13th centuries B.C.) was named.About 730 B.C. colonists from Greece, led by Lami of Megara, settled here for a time before founding the colony of Megara Hyblaea 8km/5mi to the northwest.Excavations have revealed remains of two harbors, roads, public buildings and private houses.Rich finds of indigenous and Mycenaean ceramics were discovered in a necropolis with more than 4,000 rock-graves; these finds are now housed in the Archeological Museum at Syracuse.
Pantálica contains approximately 5,000 graves from the 13th to 8th C B.C.
Pachino, Italy
LocationThis town in the extreme southeastern corner of Sicily. Together with Avola, Grammichele and Noto it is one of the new towns planned during the Baroque period. Somewhat more recent than the other places mentioned, it was laid out in 1758 on a grid-shaped plan, with a right-angled network of streets encircling a main square on which stands the 18th century church of Santissimo Crocifisso.
Surroundings
Portopalo
The fishing port of Portopalo is beautifully situated on Cape Pássero 6.5km/4mi southwest of Pachino. The coast, with its strong tides, is prolific in fish, and regular afternoon fish-auctions are held in Portopalo. At the top of the cliffs lies a holiday village, but there is not much in the way of a beach, just a few small bays. Portopalo is very suitable for water-sports.
Grotta Calafarina, Marzamemi
From Portopalo a road leads north along the charming coastline as far as Marzamemi (7.5km/4.5mi): on the way we will pass the Grotta Calafarina (5km/3mi), where Middle and Late Stone Age tools have been found. The fishing village of Marzamemi, 5km/3mi northwest of Pachino, is being developed into a seaside resort, with recently-built holiday apartments and a hotel.
Monti Iblei
The Monti Iblei dominate the southeast of Sicily. They consist partly of old basalt deposits, to which they are indebted for their greater fertility. They are less high than the other mountain ranges, but have their own distinctive summits in the mountain at Enna (948m/3,110ft) and Monte Lauro (968ft/3,176ft).
Map of Syracuse Attractions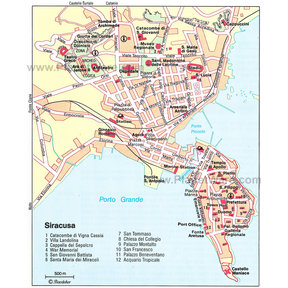 Syracuse Map
More Syracuse, Italy Attractions