Surroundings, Rome
The surroundings of Rome include the Alban Hills and Cerveteri.
Related Attractions
Alban Hills
In the past many Roman noble families and Popes built castles in these hills, and the region is therefore also known as the Castelli Romani ("Roman Castles"). Today Roman citizens have made their homes here, attracted by purer air and quieter surroundings of an area which lies considerably higher than Rome. These volcanic hills rise to a height of 949m/3,114ft in Monte Cavo. The craters of the volcanoes have formed two lakes, the Lago Di Albano (Alban Lake) and the Lago di Nemi (Lake Nemi). Around the old castles a series of little towns have grown up, including Frascati, Grottaferrata, the picturesque Marino, Castle Gandolfo, Albano, Ariccia, Genzano, Nemi, with its small ship museum, and Rocca di Papa, surrounded by beautiful woodland on the edge of a crater known as Campo di Annibale.
Lago di Albano
This crater lake (about 3.5km/2mi long, 2km/1.25mi wide; alt. 293m/960ft; greatest depth 170m/560ft) is of extraordinary beauty from whatever viewpoint it is seen. The level of the lake is maintained at a constant height by an emissary or tunnel 2,500m/2,700yd long, 1.2m/4ft wide and 1.6m/5ft high which drains surplus water into the Tiber. The emissary was originally constructed by Roman engineers in 397 B.C., following a prophecy that Rome could not conquer the Etruscan city of Veii until the water of the lake had been drained.
Grottaferrata
No tour of the Castelli Romani area would be complete without a visit to the old abbey of the Basilians (an order of the Greek Catholic Church) at Grottaferrata, described by Pope Leo XIII at the end of the 19th century as "a jewel from the East in the Papal tiara". The abbey, situated at an altitude of 329m/1,080ft, is not only a venerable old religious house with some notable works of art but an example of Renaissance defensive architecture.
Castel Gandolfo, Italy
In Castel Gandolfo is the Pope's summer residence, the construction of which was begun by Urban VIII in 1624. The property enjoys extraterritorial status as part of Vatican City. From the little town, which according to legend was founded by Aeneas' son Ascanius and which, as Alba Longa, was later destroyed by Rome, there are wide-ranging views over the Roman Campagna, extending as far as the dome of St Peters, and down to the Alban Lake. In the main square, opposite the Papal palace, is the church of San Tommaso di Villanova by Bernini.
Map of Rome Attractions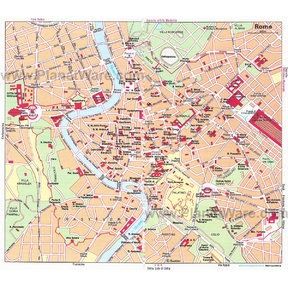 Rome Map