Surroundings, Perugia
Related Attractions
Tomb of the Volumnii
East of Perugia, 1km/0.75mi before Ponte San Giovanni (189m/624ft), is a modern building which houses the entrance to the underground Tomb of the Volumnii (Ipogeo dei Volumni), one of the finest tombs in Etruria, dating from the second century B.C. It imitates the plan of an ancient house, with nine chambers grouped round a central space, which contain urns with extraordinarily expressive carvings.
Torgiano
Nearly 15km/9.5mi south of Perugia, in the middle of a well-known region lies the little town of Torgiano (219m/720ft; pop. 4,900). The local museum, established by the Lungaroti family in an old palazzo in the town center, is of interest.
Deruta
On the E45, 20km/12.5mi south of Perugia, the town of Deruta (218m/717ft; pop. 7,600), epitomizes ceramic manufacture in Umbria. Hand-made majolica objects, painted in traditional patterns, can be purchased in the many craft shops in the town center. A few beautiful old examples are on display in the Museo delle Maioliche on the first floor of the Palazzo Communale. Of interest is the small church of the Madonna del Bagno, on the E45 2km/1.25mi south of Deruta (Casalina exit), which has more than 600 majolica votive plaques.
Lake Trasimene, Italy
To the west of Perugia is Lake Trasimene (Lago Trasimeno; Latin Lacus Trasimenus). The lake, lying at an altitude of 259m/855ft, is the largest in the Italian peninsula (area 128 sq.km/49 sq.mi, circumference about 50km/31mi; greatest depth 7m/23ft) and is well-stocked with fish. Fed almost solely by rain-water, it is subject to considerable variation of level. Lake Trasimene is famous as the scene of the second Punic War, a battle between Carthaginians and Romans, in which Hannibal defeated the Roman consul Gaius Flaminius in 217 B.C.
Passignano sul Trasimento
On a promontory on the north side of Lake Trasimene is the ancient little town of Passignano sul Trasimento (289m/954ft), with an old castle; on another promontory rising above the west side of the lake is Castiglione del Lago (304m/1,003ft), with the ducal castle of the Cornia family.
Map of Perugia Attractions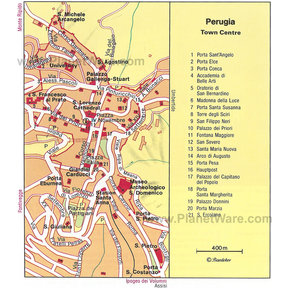 Perugia Map
Popular Destinations Nearby