Surroundings, Milan
The surroundings of Milan include Chiaravalle Milanese, Metanopoli and Monza.
Related Attractions
Chiaravalle Milanese
Southeast of Milan is Chiaravalle Milanese, noted for its Cistercian abbey church, a fine brick edifice with a tall tower; it was founded by St Bernard of Clairvaux in 1135 and remodeled between 1170 and 1221 and has magnificent Baroque choir-stalls of 1640, an elegant little cloister and a cemetery.
Metanopoli, Italy
Southeast of Milan, in the commune of San Donato Milanese, is Metanopoli (188m/620ft), also called "Captital of Methane" or "Oil City", a satellite town which has grown up since 1940 with the headquarters or branch establishments of the leading Italian oil companies, such as ENI (Ente Nazionale Idrocarburi), SNAM (Società Nazionale Metanodotti), AGIP (Azienda Generale Italiana Petroli, with departments of mining and atomic research) and ANIC (Azienda Nazionale Idrocarburi).
Monza, Italy
Northeast of Milan, on the River Lambro, is the industrial town of Monza (162m/535ft; pop. 124,000), which together with Pavia was the place of coronation of the Lombard kings from the 11th century. In the Piazza Roma stands the old Town Hall ("Arengario") of 1293, and close by the cathedral, founded in 590 and rebuilt in the 13th and 14th centuries in Lombard Gothic style, with a beautiful facade and a harmonious interior. In the Cappella di Teodolinda are frescoes and the famous "Iron Crown", said to be the royal crown of the Lombards, with which the German emperors were crowned as kings of Italy. Under the little cloister on the left side of the cathedral the Museo Serpero contains the rich Cathedral Treasury. To the north of Monza stands the Villa Reale, built 1777-80 in Classical style by G. Piermarini (formerly a royal castle; small picture gallery). Nearby is the main entrance to the Parco Reale, through which flows the River Lambro. In the extensive park are the Mirabello racecourse and the well-known motor-racing circuit, as well as golf-courses and polo pitches.
Surroundings Pictures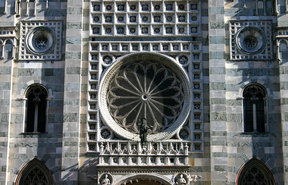 Map of Milan Attractions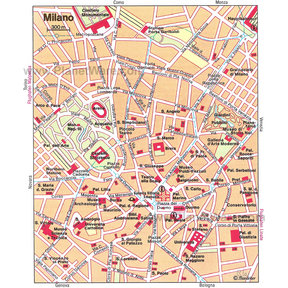 Milan Map
More Milan Attractions
Popular Destinations Nearby