Giuliana Tourist Attractions
LocationGiuliana lies in the interior of the island to the north of Sciacca (3.5km/2mi west of Chiusa Scláfani and 17.5km/11mi east of Sambuca di Sicilia), on a basalt rock 734m/2,408ft high.
Castle
The little town of Giuliana is dominated by a castle, which is thought to date back to the time of Emperor Frederick II. The side of the castle which is vulnerable to attack is the one opening on to the town, the rock falling gently away here, while on the other side a steep slope offers a greater degree of protection. This dictates the shape of the building: two wings meet at an obtuse angle; where they come together, a polygonal tower of several floors juts out into the town.
Santissima Trinità
Halfway up the slope leading to Giuliana, and directly in front of the castle, lies the monastery of the Santissima Trinità, which with its horse-shoe shape cleverly fits the land available to it. It was erected in 1648-55 as a branch of the Abbey of Santa Maria del Bosco.
Surroundings
Santa Maria del Bosco
The former Benedictine monastery of Santa Maria del Bosco (10km/6mi northwest of Giuliana) lies all on its own at an altitude of 831m/2,726ft. The existing buildings were erected from 1593 onwards on the site of an earlier building. Work did not finish until well into the 18th century. Since the dissolution of the monasteries in 1866 the site has been put to agricultural use. The buildings are no longer in good condition and the church itself has been in ruins since the earthquake of 1968.Since the dissolution any movable artistic treasures have disappeared. These include the tombstone of Eleonora d'Aragona, a benefactress of the monastery, who died in 1415 in her castle at nearby Giuliana. The famous marble bust by Francesco Laurana was rescued from the tomb and is today in the Museo Regionale in Palermo.
Map of Giuliana Attractions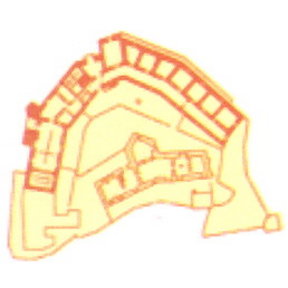 Map - Giuliana