Bet Alfa Tourist Attractions
Situation and characteristicsThe kibbutz of Bet Alfa, at the foot of Mount Gilboa, 6km/4mi west of Bet Shean and 19km/12mi east of Afula, was established in 1921. Its main claim to fame is the almost completely preserved mosaic pavement found nearby in a sixth century synagogue. The mosaic, found by chance in 1928 during the construction of an irrigation canal on the neighboring kibbutz of Hefzi Bah, ranks with the one at Tiberias-Hammat as one of the most important evidences of synagogue-building in the Byzantine period. The synagogue, which lies within the area of the Hefzi Bah kibbutz, bears the name of Bet Alfa since it belonged to the ancient settlement of that name.
Synagogue
The synagogue at Bet Alfa, a three-aisled building with a semicircular apse for the Torah shrine at the south end, has been re-roofed. There are mosaic pavements in the central and western aisles; the one in the central aisle has figural scenes, the other purely ornamental patterns. At the entrance to the central aisle is a Greek and Aramaic dedicatory inscription flanked by a lion and an ox.
Bet Alfa Synagogue - Mosaic in Central Aisle
The mosaic in the central aisle of the synagogue at Bet Alfa is in three parts. Just inside the old central doorway is a representation of Abraham's sacrifice. To the left are two men leading Abraham's ass; in the center is the bearded figure of Abraham in a long robe, holding the sacrificial knife in his right hand and the boy Isaac in his left; behind him is the ram, tied to a tree, and above is the Hand of God, directing Abraham to sacrifice the ram rather than his son, while to the right is the altar of sacrifice. The central panel of the mosaic is dominated by a cosmological theme. In the middle, presented frontally, is the sun god Helios in a chariot drawn by four horses; round him are the twelve signs of the Zodiac, and in the corners are the four Seasons. The panel at the far end shows the Torah shrine in the center, flanked by seven-branched candlesticks, incense scoops, two birds and two lions and framed by curtains on either side.The themes of the Zodiac and the Torah shrine are also found in the mosaics of the synagogue at Tiberias-Hammat; but while the Tiberias mosaics are works of consummate artistic skill, those of Bet Alfa are in a plainer, more popular style.
Map of Bet Alfa Attractions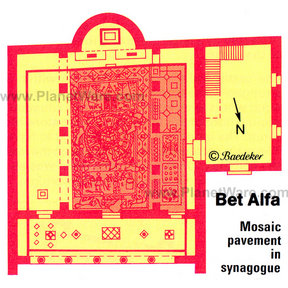 Map - Bet Alfa