Herakleion Archeological Museum
Kretikón Mouseion
Iráklion's principal tourist attraction, and one of the most important sights in the whole of Crete, is the Archeological Museum (Kretikón Mouseion) in the eastern part of the old town, which displays the magnificent finds from Knossos, Phaistós, Ayía Triáda and other sites on the island, illustrating the splendid pre-Greek cultures which flourished from the fifth millennium B.C. onwards.The building which houses the Iráklion Archeological Museum was opened in 1940 and designed to resist seismic activity and provide appropriate lighting for displays.
Address:
1 Xanthoudidou St, Greece
Opening hours:
Apr 1 to Oct 31:
8am-7:30pm; Mon: 1pm-7:30pm
Nov 1 to Mar 31:
8:30am-3pm
Always closed on:
New Year's Day (Jan 1), Greek National Day (Mar 25), May Day / Labor Day (May 1), Christmas - Christian (Dec 25), Easter - Christian, 15th of Shaaban - 12th Iman's Birthday - Muslim, Good Friday - Christian
Entrance fee in EUR:
Adult €4.00, Concession or reduced rate €2.00, Students from EU FREE, Child 18 & under FREE
Useful tips:
Admission is free on Sundays between November and March.
Disability Access:
Partial facilities for persons with disabilities.
Herakleion Archeological Museum Highlights
Lower Floor
The lower floor of the Herakleion Archeological Museum includes numerous interesting finds:Department A, Room I: Neolithic (5000-2600 B.C.) and Early Minoan (2600-2000 B.C.): stone vessels from the island of Mókhlos (northeast of Crete) and seals.Department B, Rooms II and III: Middle Minoan (the Proto-Palatial period, 2000-1700 B.C.): vases in Kamáres style (named after the village of Kamáres) from Knossos, Mália and Phaistós.Department C, Rooms IV, V, VII and VIII: Middle Minoan (Neo-Palatial period, 1700-1450 B.C.): cult vessels, inscribed tablets, statuettes, ivory game board, jewelry.Department D, Room VI: jewelry and other valuable grave goods of the Late Minoan period (Post-Palatial, 1400-1250 B.C.).Department E, Room IX: Middle Minoan material from eastern Crete.Department G, Room X: Late Minoan/Helladic style (1400-1100 B.C.).Department H, Rooms XI and XII: Late Minoan/Geometric period (Dorian; 1100-650 B.C.) and later developments.Department I, Room XIII: Minoan sarcophagi from Ayía Triáda, Tyàlisos, Gourniá and other sites.Department M, Room XIX: Hellenistic period (seventh-sixth century B.C.).Department N, Room XX: Sculpture of the Hellenistic and Roman periods (fifth century B.C. - A.D. fourth century).
Upper Floor
The upper floor of the Herakleion Archeological Museum includes numerous interesting finds:Department J, Rooms XIV (hall)-XVI: Frescoes and reliefs from Minoan palaces; a magnificent stone sarcophagus from Ayía Triáda.Department A, Room XVII: Giamalakis Collection of Dorian sculpture (700-500 B.C.). Department L, Room XVIII: Objects of the Hellenistic and Roman periods (700 B.C.-A.D. 400).
Map - Herakleion Archeological Museum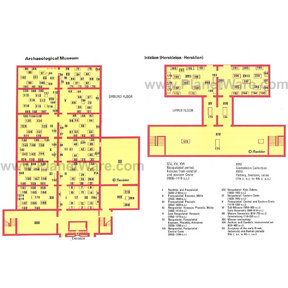 Map - Iraklion Archaeological Museum
Map of Iraklion Attractions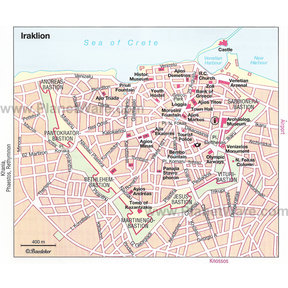 Iraklion Map
More Iraklion Attractions
Popular Destinations Nearby