Corfu Island
Kérkyra
Area of island: 592 sq. km/229 sq. mi.Corfu (Kérkyra), the most important and most northerly of the Ionian Islands, lies off the coasts of Albania and the Greek region of Epirus, at a distance ranging between two and 20km (one and 12.5mi). The beauty of its scenery, with gentle green hills in the south and rugged limestone hills in the north, rising to 906m/2,973ft in the bare double peak of Mt Pantokrátor, its mild climate and its luxuriant southern flora make Corfu a very popular holiday area.
Related Attractions
Othonian Islands
The Othonian Islands are an archipelago in the northern Ionian Sea, northwest of Corfu (Kérkyra), consisting of a number of islets which are either uninhabited or only occasionally inhabited - Othoni (Italian Faro; lighthouse), Erikousa (Italian Merlera), Mathraki and Diaplo. The island of Calypso was believed to be one of the islands in this group.
Lakones, Greece
From the road junction at Gouviá the main road descends to the bay of Liapádes on the west coast, and then climbs again. In 10km/6mi a road goes off on the right to the picturesque village of Lákones (3.5 km/2.25 mi) and, 1km/0.75 mi beyond this, the viewpoint of Bella Vista.
Anemomylos - Chruch of Sts Jason and Sosipater
The Church of Sts Jason and Sosipater at Anemolylos is a typical example of 12th century Byzantine architecture, decorated with beautiful icons, hagiographies and a remarkable icon-screen.
Corfu Golf and Country Club
The popular Corfu Golf and Country Club (in Ropa plain, 17km/10.5 mi from Corfu Town) has 18 holes.This attractive golf course is ranked among the 100 best worldwide.
Mandouki - Monastery of the Virgin Platytera
The Monastery of the Virgin Platytera, near Mandouki, contains the tombs of Ioannis Kapodistrias (Greece's first governor) and the Revolutionary hero Fotos Tzavellas. It also possesses some rare post-Byzantine icons.
Corfu - Cricket Week
Every year in September the island of Corfu hosts a week of cricket matches with visiting foreign teams.
Kassiopi, Greece
Kassiópi is an attractive little town with a ruined Byzantine castle that has not lost its traditional character.
Lefkimi, Greece
Léfkimi is the wealthiest and most important of Corfu's large villages. It lies in the middle of the island's biggest valley.
Lefkimi Folk Festival
Lefkimi holds a Folk Festival with local dances every year on July eighth.
Pelekas, Greece
Pelekás is famous on Corfu for its beautiful sunsets. It is also a pleasant town with a nearby golf course.
Corfu - Surroundings
There are numerous towns and sites within a short distance of Corfu.
Ipsos
The village of Ípsos, two km north of Corfu town is a charming and peaceful fishing village with clear blue sea.
More Corfu Island Pictures
Map - Corfu Island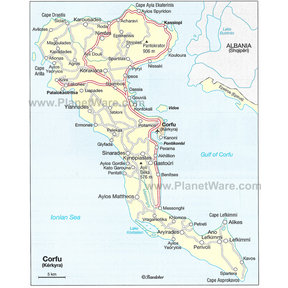 Map - Corfu
Popular Destinations Nearby