Events, Innsbruck
There are many festivals and events in Innsbruck.
Related Attractions
Tyrolean Summer
This annual festival runs throughout the summer and includes all types of events. Classical orchestras, symphonies, brass bands, jazz and folk groups, soloist, opera companies and other performers come together to provide a full program intended to please every visitor to Innsbruck.The venues are equally impressive and include Ambras Castle, Igls Parish Church, Wilten Basilica, Court Church and Golden Roof Square.
Church Concerts
Innsbruck is known as the "Organ Town" and showcases its two most interesting organs every year. The Ebert organ, dating from 1558, and the Italian Renaissance organ are located in the Silver Chapel. They are highlighted in a series of organ concerts running annually between May and September.The season ends with the International Organ Competition in September.
Festival Weeks of Early Music
This annual eight-week festival takes place in July and August. The series of Early Music Concerts is dedicated to historical instruments and Baroque operas, and has gained international acclaim. The venues include the 18th century Hapsburg Palace, the Hofkirche, the Tirol Landestheater and Ambras Castle.
Concerts at Ambras Castle
The Spanish Hall of the Castle is opened from late June to early August for a series of concerts every Tuesday night.The concerts first began in 1962.
International Folk Festival
This is a folk festival of authentic and elaborate dance, music and song held at the end of June.
International Dance Theater Festival
This week-long festival takes place in late April.
Map of Innsbruck Attractions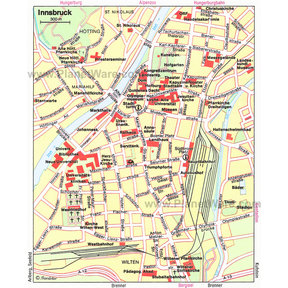 Innsbruck Map
More Innsbruck Attractions
Popular Destinations Nearby