Keszthely Tourist Attractions
Situated on the west bank of Lake Balaton the holiday center of Keszthely, with its population of 22,500, is the largest town on the lake, rich in tradition and offering a sandy beach, hotels and ample leisure facilities.
Festetics Castle
Festetics Castle was first built in 1745 by Kristóf Festetics and later enlarged by Duke Tasziló Festetics in the 1880s. The castle contains 101 rooms and features a Neo-Baroque façade.
Franciscan Priory
In 1386 the Franciscans built a single-aisled, groin-vaulted church on FO tér; in 1550 a priory was added on the north side. During the Turkish occupation it was converted to a fortress and linked with Lake Balaton by a canal so that boats could sail right up to it. The Turks besieged the fortified church but were unable to take it. The Neo-Gothic tower on the front was added in 1878. In 1896 the Baroque furnishings were removed to reveal the original Gothic. During the restoration work some fragments of frescos of remarkable quality were uncovered; these show the influence of late 14th C Italian painting. The coat-of-arms of the architect István Lackffy adorn the keystone of the choir ceiling; his tomb is also in the choir.
Balaton Museum
The magnificent 1928 Neo-Baroque building (entrance in Kossuth Lajos utca) now houses an extremely informative and rich collection of exhibits devoted to the natural history and culture of the "Balaton" region. On the ground floor is a lapidarium with Roman and medieval stone finds, while the second floor documents a range of subjects including flora and fauna, unique aspects of folk-lore and traditional forms of work, shipping and tourism on Lake Balaton.
Helikon Park
Helikon Park, an extensive area reaching as far as the promenade along the bank of the lake, is Kesthely's modern leisure center. It has shops, sports facilities and a large beach.
Petho House
The plain Baroque building, one of the town's oldest houses and with a medieval cellar, is where the composer Károly Goldmark was born.
ENLARGE MAP
PRINT MAP
EMBED < >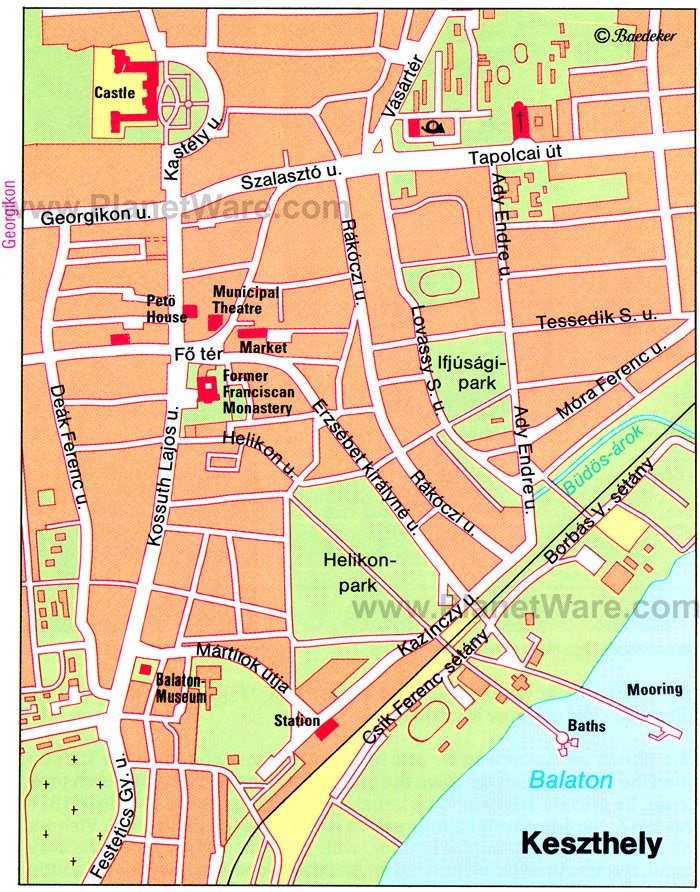 Keszthely Map - Attractions
Sightseeing Nearby: