Into the Pyrenees via Bastro
Related Attractions
Barbastro, Spain
From Huesca N 240 leads east to Barbastro (51km/32mi), beyond which we turn left into C 138, a narrow and winding road which heads north up the valley of the Río Cinca.
Rio Cinca
The Rio Cinca is pounded by dams to form a series of artificial lakes.The area has a number of waterfalls and is also a good birdwatching area.
Alto del Pino
After passing through El Grado and Naval (ruined castle) the road climbs to the Alto del Pino (857m/2812ft), from which there is a view (below, to the right) of the Embalse de Mediano.
Monzon
Monzón, on the N240 south of Barbastro, has an impressive castle overlooking the town.
Ainsa, Spain
C 138 runs down to the charming village of Ainsa, once capital of the petty kingdom of Sobrarbe, with a 12th century collegiate church, an imposing ruined castle and the remains of a ninth Century monastery.
Boltana, Spain
At Ainsa C 138 turns west and comes to Boltaña, a pretty little town in the valley of the Río Ara. It then continues up the valley, with the Sierra de Bolave on the right. Beyond Brotó it runs into the road coming from Biescas, which it follows north to the Parque Nacional de Ordesa.
Graus, Spain
Turn off C 138 shortly before El Grado into C 139, which runs northeast to Graus, at the junction of the Río Esera and the Río Isábena.
Benasque Valley
From Graus the road runs up the Esera valley, through magnificent scenery, and comes in 70km/45mi into the Benasque valley, which offers endless scope for walks and climbs, and in winter for skiing at Cerler, a few kilometers from Benasque.
Cerler
The highest ski resort in the Pyrenees, Cerler features just a few hotels and apartment buildings but there are accommodation options in the nearby town of Benasque. With 18 lifts the resort has an impressive vertical drop of 1,130 meters from a top elevation of 2,630 meters. Not a lot of variety but good snow, well-roomed runs and a great view of the Aneto glacier nearby.
Benasque
The medieval town of Benasque features several Pyrenean family homes. Noteworthy among these are those of the Count of Ribagorza, and Marcial del Río. The church of Santa María la Mayor is also worth a visit.
Map of Huesca Attractions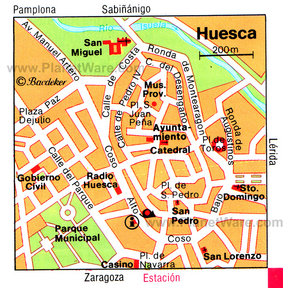 Huesca Map
More Huesca Attractions
Popular Destinations Nearby