Iolani Palace, Honolulu
Iolani Palace is an impressive neo-classical building completed in 1882 for King Kalakaua. The palace was the residence of Hawaii's royalty until they were deposed by American settlers in 1893. It then served as the state capitol until the modern one was constructed in 1969.The restored interior boasts elaborate wood paneling and carving of native woods like Koa and several imported species. The throne room still has the original carved throne and chandelier. Stained glass and elaborate decorations grace the façade. The grounds boast a quaint bandshell.
Important Information:
Address:
364 South King Street, Honolulu, HI 96813, United States
Opening hours:
9am-5pm; Closed: Sun
Always closed on:
New Year's Day (Jan 1), American Independance Day (Jul 4), Thanksgiving - USA (4th Thursday, Nov), Christmas - Christian (Dec 25)
Useful tips:
Reservations recommended with guided tours given every 15 minutes. Children under 5 not permitted on guided tour.
Disability Access:
No facilities for persons with disabilities.
Guides:
Guided tour included with admission.
Related Attractions
Barracks
Located in the palace grounds are the Royal Barracks where the king's bodyguards lived. Originally built in 1871 close to the site of the present Hawaii State Capitol, the barracks only moved to their current position when the Capitol was built. The building resembles medieval battlements with embrasures, which appear somewhat odd in these surroundings.
Hawaii State Archives
To the right of Iolani Palace are the Hawaii State Archives, built in 1953 and containing an extensive collection of state documents, reports and many old photographs - a treasure trove for all those interested in the history of Hawaii.
Honolulu Hale City Hall
Opposite the State Archives, on the other side of Punchbowl Street, is City Hall (Honolulu Hale). This dates from 1928 by Dickey, Wood, Miller, Rothwell, Kangeter & Lester and was built in the early Renaissance style. It is used today for cultural events and exhibitions.At Christmas time the building is well decorated with lights and wreaths.
Library of Hawaii
Near the Iolani Palace and State Archives is the Library of Hawaii with a lovely shady courtyard used by many of the government officials working nearby as a place to spend their lunch hour.
Map of Honolulu Attractions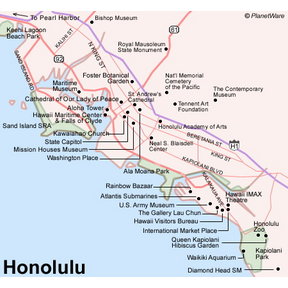 Honolulu Map
More Honolulu Attractions
Popular Destinations Nearby